The Specials legend to get Honorary Doctorate from Coventry University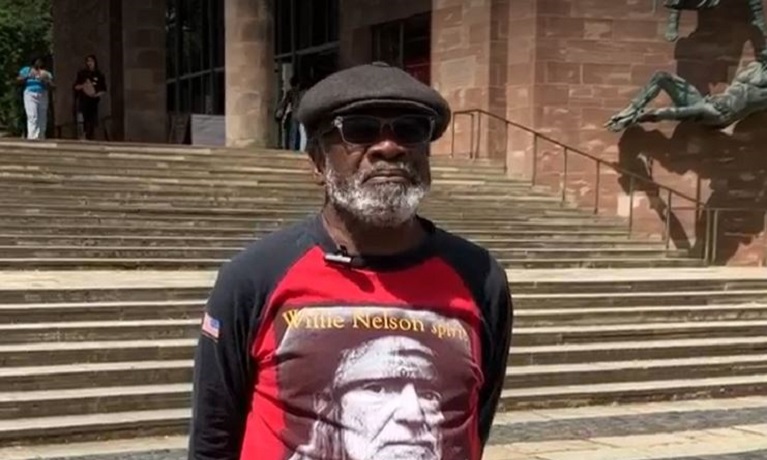 University news / Alumni news
---
Friday 14 July 2023
Press contact
---
Coventry musical legend Lynval Golding will be honoured by Coventry University for his contribution to music and the fight against discrimination over the years.
The Specials guitarist will become an Honorary Doctor of Arts at a graduation ceremony at Coventry Cathedral on Monday 17 July.
The 71-year-old was one of the original members of The Specials who took the world by storm with their catchy ska tunes, hard-hitting lyrics and stand against racism and all forms of discrimination.
It was something I did not expect. It means so much to me and I'm accepting this on behalf of the next generation and I want to pass it down to them. I have two grandsons and for me to inspire them means a lot.

I've got to give so much to my father, he is looking down at me going 'that's my boy'. Thank you to everyone for the opportunity, the journey and the doors that were opened to me in Coventry.

Bless everyone and as Terry Hall would say at the end of a concert: Love, love and love. Love to everyone in Coventry.

Lynval Golding
The recognition being bestowed upon Lynval is not just for the music that he helped create, but also for what he and the band did over a number of decades to fight racial hatred and discrimination – an issue that is very close to his heart.
Lynval joins a list of other musicians to have previously received Honorary Doctorates from Coventry University including Pauline Black, Tony Iommi and Lynval's very own bandmate, Jerry Dammers.
Jerry's links with the university go even further back than his accolade presented in 2006, having studied at the then-named Lanchester Polytechnic, as did another Specials member, Horace Panter.
When Jerry formed the band, I was the very first member. I was right with him side by side and feel really honoured to be with him side by side again.

Lynval Golding
Lynval is back in the country for the first time since the funeral of his much-loved friend and Specials singer Terry Hall. Coventry Cathedral will be the host venue for Lynval's graduation ceremony, and that is the exact location where Terry played his final gig in Coventry before this death in December 2022.
Terry was such a humble guy. They give out all these awards and Terry was the best lyricist, and you wouldn't get the tabloids chasing him...but what a talent.

I won the biggest jackpot ever to work with Terry and the others over the years. The last gig that Terry did was at the cathedral and I got up to sing with him. He was so funny and an amazing man - the best.

Lynval Golding
Another to be awarded an Honorary Doctorate at this month's graduation ceremonies is the Dean of Coventry, The Very Reverend John Witcombe. He led churches in Nottingham, Sheffield and West London, before becoming Canon of Gloucester Cathedral and then moving to lead Coventry Cathedral in 2013.
He will be given a Doctorate of Letters for his outstanding commitment to Coventry University and the wider community across the city.
Coventry University is our next door neighbour here in the centre of this creative, vibrant and diverse city. It's our privilege to share with the university in shaping the lives of students and staff as we are inspired by our shared values of peace and reconciliation.

I have personally been so delighted by the rich personal and professional relationships that I have enjoyed with members of the university over my ten years here as Dean of Coventry Cathedral, and I'm honoured and privileged to have the opportunity to be even more closely associated with all the university represents, both here in the city and across the world.

The Very Rev John Witcombe
An Honorary Doctor of Technology will be given to Jane Goodyer, a Coventry University graduate who is now the Dean of the Lassonde School of Engineering at York University in Canada. She will be recognised for her outstanding contribution to engineering education and to promoting women in engineering.
Rob Behrens CBE, the Parliamentary and Health Service Ombudsman, will also be bedecked in his gown and mortarboard during the week-long celebrations as he receives an Honorary Doctorate of Arts. Rob is being honoured for his dedication to resolution services with higher education and significant contributions within the field of international development.
Also preparing for a big day is Daljit Athwal, the chief nursing and midwifery officer for Birmingham Women's and Children's NHS Foundation Trust, whose efforts towards the enhancement of specialist care for NHS patients across the country will see her become a Doctor of Science.
David Wright's cutting-edge research projects on ethics, law and societal security with Trilateral Research saw him put forward for a Doctor of Laws.