The Specials legend dedicates Honorary Doctorate from Coventry University to lost bandmates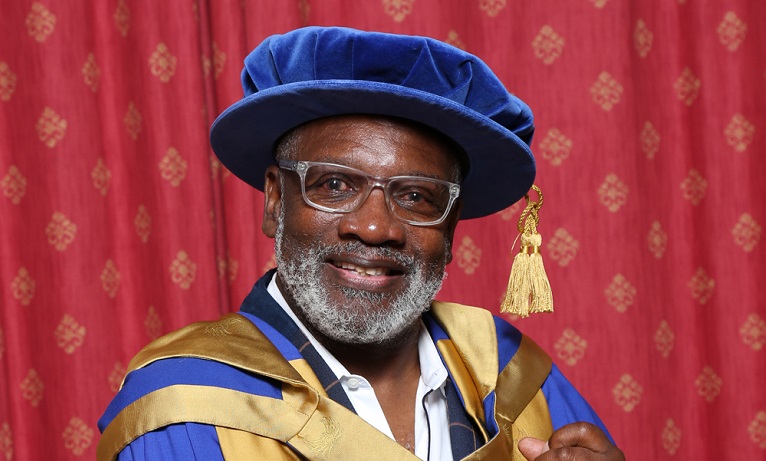 ---
Tuesday 18 July 2023
Press contact
---
A beaming smile spread across the face of Coventry music legend Lynval Golding as he stepped forward to collect his Honorary Doctorate from Coventry University.
The guitarist from the city's universally-loved band The Specials was made an Honorary Doctor of Arts for his contribution to music and the fight against racism and discrimination over the years.
Lynval, 71, was bedecked in a traditional graduation gown for the ceremony at Coventry Cathedral on Monday 17 July where he dedicated the award to all his former bandmates, naming two in particular.
Both John Bradbury and Terry Hall have sadly passed away in recent years, with Terry's last gig in Coventry before his death taking place on the very same stage inside the cathedral.
The last time I was here was during the City of Culture and this is my third time on this stage, and the second time was with Terry Hall. I would like to accept this honour on behalf of Terry Hall, John Bradbury and all the musicians I have played with over the years in an amazing journey.

To all the students here today going out into the wide world; it took us (The Specials) 40 years to get our first number one album, so the world is your oyster and it is yours go and take it, and multiply and accumulate. It's for you to get up on your journey and hopefully in another 40 years' time you can stand up here going 'wow, that was a journey!'.

I wish you all the best and am sending nothing but love, love, love.

Lynval Golding addressing students and their guests from the stage at Coventry Cathedral
Lynval joins a list of other musicians to have previously received Honorary Doctorates from Coventry University including another former bandmate Jerry Dammers, The Selecter singer Pauline Black and Black Sabbath guitarist Tony Iommi.
The cathedral also made a fitting backdrop as an Honorary Doctorate was also bestowed upon the Dean of Coventry, The Very Reverend John Witcombe, on Monday. He has been leading the city's iconic cathedral since 2013 and has become a Doctorate of Letters for his outstanding commitment to Coventry University and the wider community across the city.
The graduation ceremonies continue this week with other Honorary Doctorates including: Jane Goodyer, a Coventry University graduate who is now the Dean of the Lassonde School of Engineering at York University in Canada, becoming an Honorary Doctor of Technology; Rob Behrens CBE, the Parliamentary and Health Service Ombudsman, receiving an Honorary Doctorate of Arts; Daljit Athwal, the chief nursing and midwifery officer for Birmingham Women's and Children's NHS Foundation, being awarded a Doctorate of Science; and David Wright's cutting-edge research projects on ethics, law and societal security with Trilateral Research seeing him put forward for a Doctor of Laws.