Coventry University Group to explore ways to support government training for crisis and emergency management situations in Singapore.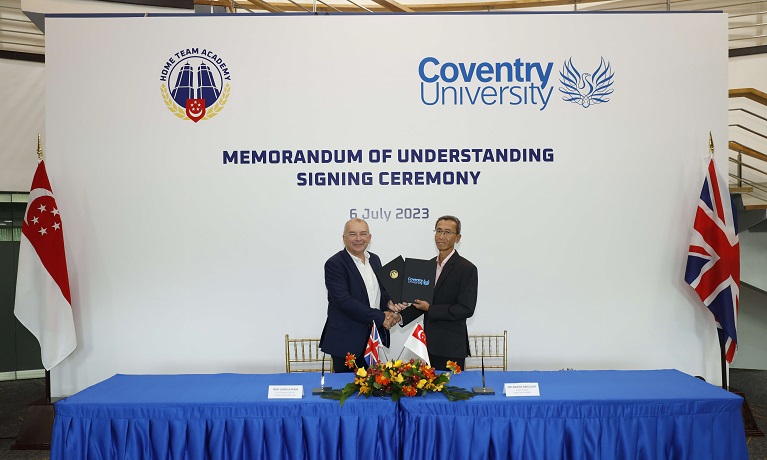 University news / Business news
---
Wednesday 27 September 2023
Press contact
---
Coventry University Group is set to explore opportunities to share its simulation expertise to help train officers and personnel in various organisations of the Ministry of Home Affairs in Singapore to prepare for crisis and emergency management situations.
A memorandum of understanding (MoU) between the higher education provider and Home Team Academy (HTA), the training institute for various organisations in the Ministry of Home Affairs in Singapore's Home Team Departments (HTDs), was signed in July 2023.
The MoU spells out a commitment to strategic collaboration on training and development which will see the two organisations develop and deliver academic and training programmes to officers and personnel of the HTDs, facilitate and enhance joint research and learning opportunities, share knowledge and expertise and build capability and capacity in areas of interest to the organisations.
One area in which the Group could have an important role is within HTA's provision of simulation training for the Singapore Police Force (SPF), the Singapore Civil Defence Force (SCDF), the Immigration & Checkpoints Authority (ICA), the Singapore Prison Service (SPS), and Central Narcotics Bureau (CNB) officers.
The Group will look into working with HTA to create and tailor bespoke virtual environments to meet their training needs and benefit from seeing how HTA applies simulation training to their operating environments.
As part of HTA's simulation training, a range of scenarios, such as terrorist attacks and hostage situations, have been created in simulation platforms to aid the HTDs in their training and learning process.
Officers can see what it is like to work in a command centre as major incidents occur and put their decision-making skills to the test by reacting to situations as they evolve, with their reactions recorded and analysed afterwards.
Participants can also experience the incidents on the ground, moving through a simulated scenario using virtual reality technology.
In Singapore, the university's close relationship with HTA has seen Professor John Latham CBE, Coventry University Group Vice-Chancellor, appointed as an Advisory Panel Member for the HTA.
Prof Latham was also the keynote speaker and a panel member at the inaugural Home Team Simulation Conference held in July 2023.
The signing of this MOU marks an important milestone in the relationship between Coventry University Group and Home Team Academy. It symbolises our shared commitment to collaborate, innovate and promote excellence in areas of academic education and training. We are excited about the opportunities this MoU presents as we embark on a transformative journey towards academic excellence and mutual growth.

Professor John Latham, CBE, Coventry University Group Vice-Chancellor
As a Corporate University that is dedicated to delivering high impact programmes to our Home Team officers and to the Whole-of-Government agencies, the Home Team Academy is constantly on the lookout for opportunities to engage external organisations that share our interests to establish strategic collaborations to help us further deepen our domain expertise in training and learning.

Coventry University Group is the latest in a line of collaborations that we have established with renowned international and local academic and professional institutions as we continue to focus on establishing our global thought leadership.

Mr Anwar Abdullah, Chief Executive, HTA,
Find out more about simulation at Coventry University Group here.
Discover more information about the Home Team Academy here.