Business leaders in Singapore discuss three key leadership traits as Coventry University Group delivers first of its dialogue sessions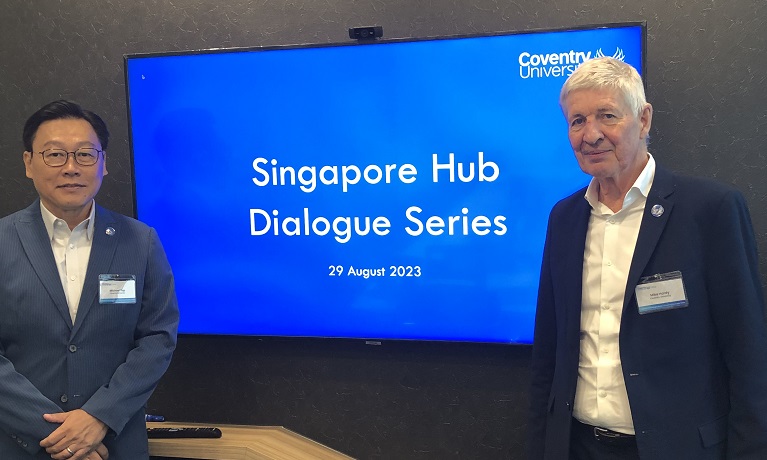 University news / Research news / Business news
---
Thursday 07 September 2023
Press contact
---
Business leaders focussed on three key qualities they need as they grapple with advancing technology and a post-digital world at the first session of Coventry University Group's inaugural dialogue series in Singapore.
Leadership scholar Professor Mike Hardy, who founded Coventry University's Research Centre for Peace, Trust and Social Relations and now researches public leadership, spoke about his research and led the discussion, which was organised by the university group's Singapore Hub.
His session, entitled "Unleashing the Leader Within", brought together leaders from many sectors of Singapore, ranging from public to private to academia, from organisations such as ACCA Singapore, Agile8 Advisory, the British Chamber of Commerce, the British Council, NatWest Markets, Shaw Investments, SGP Foods, the S. Rajaratnam School of International Studies, and Temus, to discuss cutting edge issues surrounding the topic of leadership.
The discussion highlighted the challenges posed by the relentless pace of change, the dual impact of technology that both disrupts and generate solutions, and the importance of adaptive and community-focused leadership during crisis.
The world is increasing in complexity and if we are to continue to be fit-for-purpose, we must apply new ways of thinking. The complexity of the past two decades has forced organisations to be lean, agile and above all, adaptive.

We discussed findings from my research, that show effective leadership in the 21st century is characterised by openness, curiosity and comfort with paradox. I think the biggest impact of modern technology is to raise our curiosity. This is one of the most difficult things for leaders to do. If we are humble enough and honest enough to know that we still need to learn and be curious we will be much more effective. That was widely discussed in the group, how difficult it is to be uncertain as a leader but how important it is to be curious.

It is important for Coventry University academics to visit our hub in Singapore and share their discoveries and the outcomes of their research. We are content rich, and content matters! For me, this was an exchange of value and knowledge. We listen and learn but we also share our expertise and create discussions.

Coventry University Professor Mike Hardy
As the series progresses, attendees can expect an interactive exchange of insights, strategies, and experiences, transcending traditional conventions to forge new and holistic perspectives in addressing hot button issues impacting various societal sectors, such as leadership, healthcare, and future-proofing workforces.
Through this series, we aim to engage, enrich, and empower our participants to collectively shape a future of dynamic and inclusive leadership. The objective for our inaugural session was to ignite a dialogue that transcends industry boundaries and cultivates leadership excellence. We hope that all attendees found the discussion impactful and look forward to more of such engaging sharing in the upcoming events in the series.

Michael Yap, Regional Managing Director of Coventry University Group's Singapore Hub
Discover more about the Singapore Hub.