Coventry University climbs into top five participating higher education institutions in the UK for student experience in the Postgraduate Taught Experience Survey (PTES) 2023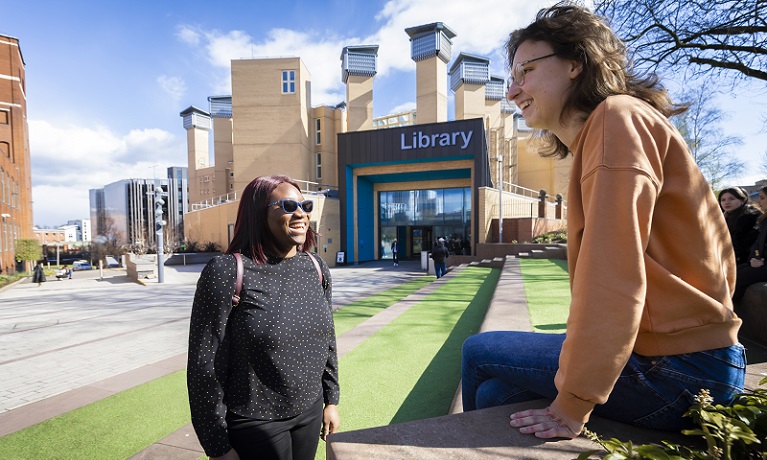 ---
Monday 14 August 2023
Press contact
---
Coventry University has been named as one of the top five participating higher education institutions in the UK for student experience in the Postgraduate Taught Experience Survey (PTES) 2023.
The university recorded its highest ever placing in the survey - which is administered by Advance HE and seeks the views of postgraduate students - climbing three places to be ranked fifth out of 101 institutions in the sector for overall satisfaction of student experience.
The higher education institution scored 91.1% for overall satisfaction, an increase of 3.9% points, and climbed the rankings in the individual category sections, placing second for Skills Development and third for Teaching, Community and Support.
The university also scored highly in the subject rankings with eight out of the 13 PTES subject classifications in the top quarter. It placed first for overall satisfaction in three subject areas: Design, and creative and performing arts (out of 32 HEIs); Law (out of 30 HEIs); and Language and area studies (out of 28 HEIs).
We are delighted with our performance in the Postgraduate Taught Experience Survey (PTES) 2023.

It is great to see the university ranked number one in the UK for three subjects as well as being in the top five for overall satisfaction of student experience.

We pride ourselves on providing job-ready graduates with the skills and creative thinking to improve their communities and so we are particularly pleased with the survey results, not just for our teaching, but for our work on skills development, community and support.

Coventry University Vice-Chancellor, Professor John Latham CBE
Advance HE designed and tested the PTES in conjunction with experts from across the higher education sector and the survey enables postgraduate students to give feedback on their experience of teaching, learning and support at their universities.
Our postgraduate taught student population is larger than ever with nearly 11,000 enrolled students this academic year, and I'm proud to see that as our student population grows, so too do our satisfaction levels.

More than 3,300 of our students completed the survey this year, meaning we have a wealth of data from which we can learn from in the future. I'd like to express my thanks to all of our colleagues and students for their hard work and dedication as we look forward to continuing to develop and deliver the best student experience we can.

Steve Galliford, Interim Pro-Vice-Chancellor for Education at Coventry University
Discover more about postgraduate opportunities at Coventry University.