Jack Reacher author Lee Child receives Honorary Doctorate from Coventry University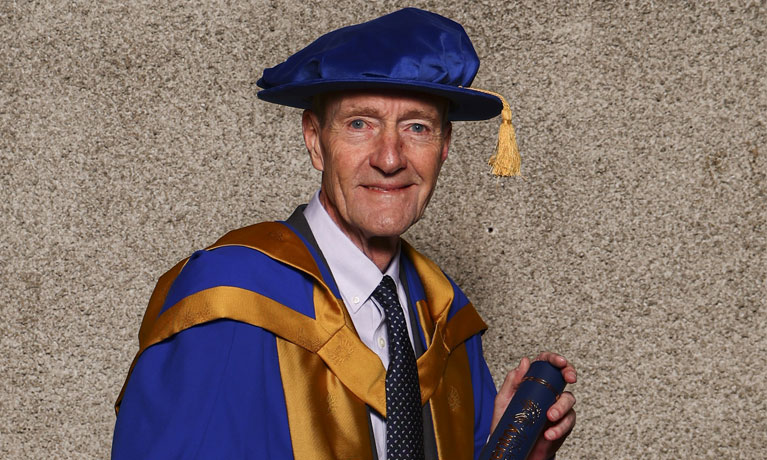 ---
Friday 31 March 2023
Press contact
---
Jack Reacher novelist Lee Child praised students after receiving an Honorary Doctorate from Coventry University.
Lee lived in the Styvechale area of the city when he was a young boy and returned to the place of his birth to be honoured by the university.
The author, whose real name is James Dover Grant CBE, turned his hand to writing the thrilling novels after being made redundant from a long career in the TV industry. His first novel, Killing Floor, won both the Anthony Award and the Barry Award for Best First Novel, and the Jack Reacher series has gone on to sell millions of copies worldwide and has been turned into a Hollywood blockbuster with Tom Cruise in the starring role.
Lee, 68, was a guest at the iconic Coventry Cathedral on Thursday where he became a Doctor of Letters in the university's latest round of honorary degrees.
I was absolutely delighted to get the Honorary Doctorate. What it really means is someone has read the books and have enjoyed them. I'm very grateful for that but the thing that I got a real big kick out of was the real students getting their degrees that they have worked very hard for.

Many of them were the first ever in their families to be at a university – I was the second of my family – and I know what it means to the student and their family.

The city has changed tremendously since I was here, but you can still recognise a lot of it, especially the feel and spirit that Coventry has. When I was little it was not long after the war and I'm standing now in a place that didn't exist as they were building the new cathedral.

We used to come to do our shopping on a Saturday and would always walk by here to see the progress of the new cathedral. It was exciting for a little boy to see them building something like that, but it was also a larger story that the city was healing and the world was healing. I remember the hustle and bustle and innovation that was in the city.

Lee Child
Other people to have received Honorary Doctorates at this week's graduations were composer, producer and musician Anna Meredith MBE who became a Doctor of Arts, and Sean McGovern, the Senior Coroner for Coventry and Warwickshire, who was made an Honorary Doctor of Law.
Community champion and activist Maxie Hayles MBE was recognised for his commitment to fighting discrimination and injustice over the past few decades and made an Honorary Doctor of Arts, while Dr Charles Ashton, Medical Director of South Warwickshire University NHS Foundation Trust since 2014, has become an Honorary Doctor of Science with the university.