Coventry University graduate now in charge of McLaren Racing Formula E team and helping shape the future of motorsport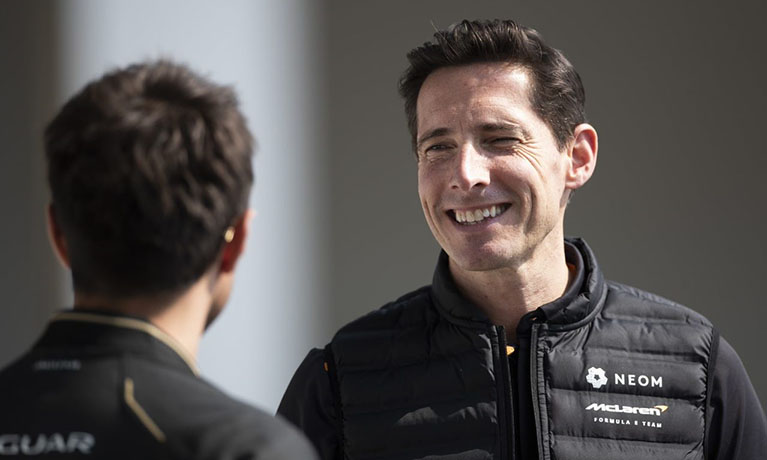 ---
Tuesday 09 May 2023
Press contact
---
The man leading McLaren Racing's latest charge in the world of motorsport began his journey at Coventry University.
It was in 2001 that Ian James graduated from Coventry University with a degree in automotive engineering design and went straight into what would be his first job at McLaren. Some years and a number of other exciting roles later, he returned to the automotive giant to head up their Formula E and Extreme E teams.
As the Team Principal of the NEOM McLaren Formula E Team and Managing Director of NEOM McLaren Electric Racing, Ian is in charge of making sure performance is spot on both on and off the track and says that what he learned at Coventry University is proving "absolutely crucial".
It was a great time and I loved my time in Coventry. It has always been one of the few universities that offered an automotive specific course.

Coventry is the right size of city for a university as it has plenty to do but it's small enough that it's not too daunting.

Ian James, Team Principal at McLaren Racing Formula E team and Coventry University graduate
Ian, 45, who is originally from Buckinghamshire, received his degree from Coventry University and began his professional career with McLaren Automotive as a manufacturing engineer, before joining the Daimler group in 2005. He held management positions in Germany and America, before moving to Mercedes-AMG where he contributed to the Mercedes-Benz F1 team's first win for 57 years at the 2012 Chinese Grand Prix.
A few more changes of role eventually saw him appointed as Team Principal of the Mercedes-EQ Formula E Team in 2019 where he helped mastermind winning the driver and team championships two years running. That success caught the eye of McLaren Racing who acquired the Mercedes-EQ team last year.
And Ian says the years he spent learning at Coventry University are still proving beneficial to this day.
I first joined McLaren straight out of university and got that offer right at the start of my final year so that was a guaranteed job. But I am not a naturally gifted engineer, so through my career I have done a variety of roles – a jack of all trades and a master of none.

The grounding and understanding that the course gave me is absolutely crucial to the role I have now as it would be difficult to do it without that background and empathy.

Ian James
Formula E is now in its ninth year and sees electric-powered racing cars competing at tracks across the globe. It gained world championship status in 2020 and Ian believes there is a bright – and green – future for the sport.
Motorsport is a sport and entertainment but as we will all be driving electric cars in the future, if not already, then motorsport needs to reflect that.

We are seeing growth and a surge in interest in motorsport as a whole - the Drive to Survive generation. We are well placed at the moment to set the tone of motorsport and we are working hard to know what that looks like and create entertaining and world class racing and drivers.

Ian James
As somebody who has risen to the top of his field and is now living what may be a dream to many, Ian has these words of wisdom for those with big aspirations.
Never lose sight of that goal - the reason why you got into something in the first place. Keep that in focus.

Also seize opportunities when they come up and sometimes that means getting out of your comfort zone. You never want to look back and wish you had done something that you turned down.

Things can look daunting, but if you take the opportunity not knowing if you have what it takes, more often than not you will. There's nothing special about me, I have just taken those opportunities when they have arisen.

Ian James
The automotive engineering design course has now been revised and updated as the Automotive Engineering course.