How we are building transnational education in the right way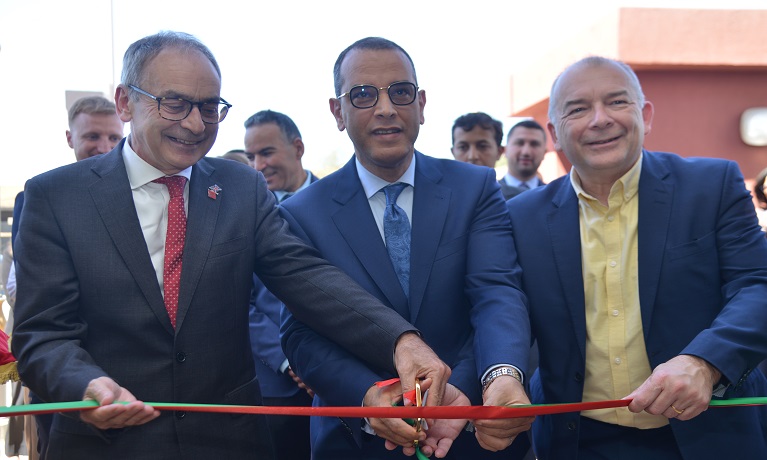 ---
Wednesday 26 July 2023
Press contact
---
Coventry University Group continues to grow its global presence with Hubs and collaborations all around the world. Here Pro-Vice-Chancellor (International), Professor Richard Wells, explains the importance of transnational education and how we are building it in the right way.
Transnational education (TNE) is a phrase you'll hear more and more as English universities expand into a growing market.
A recent report by the Office for Students found that students living overseas now account for 16 per cent of all students registered at English universities and colleges.
The benefits to all involved are clear but getting it right is vital, and it is important universities approach TNE in the right way and for the right reasons.
We recently shared the news that Coventry University has teamed up with The British Schools Educational Services Prives (BSESP) to open the International Institutes of Engineering and Management (IIEM) in Casablanca, Morocco.
This sits alongside our existing partnership with The Knowledge Hub (TKH) and El Sewedy Education, through which we have been delivering Coventry undergraduate programmes in Egypt since the 2019/20 academic year.
With the success of the TKH East campus, we announced in March that work had begun with the same partners to open a second branch campus in Egypt, TKH West, in 2024.
These developments mark important milestones in realising the Group's global vision, offering huge benefits to learners in north Africa and helping to boost Coventry University's profile across the globe.
These campuses provide fantastic facilities, and we are looking forward to welcoming students to Casablanca in October when undergraduate and postgraduate courses are launched in a variety of engineering and business-related disciplines.
Finding the right partners
Teaming up with BSEP and TKH provides another huge boost to the Group's growing profile across the globe, and represents a perfect example of how we work as an economic development partner both at home and overseas.
Our most successful partnerships are built on trust, and understanding the motives and needs of the partner is vital on the part of the Group.
Working with reliable partners reduces the risk to the Group of working overseas, and o ur experience of setting up operations elsewhere in the world has shown us that choosing the right partner is critical.
Regional partners like BSEP and TKH bring a closer knowledge and understanding of the markets in which we operate, and they have industry connections and links with national and local government that enable us to identify regional skills gaps and develop shared plans to address them.
Our 2030 Group Strategy is about changing lives through education on a global scale.
In Morocco and Egypt, through our partnerships with BSEP, TKH and each country's government, Coventry University Group will soon start to equip local people with highly desirable qualifications, assisting in the development of local talent that will enable the economy to grow and living standards to increase.
TNE as one part of a holistic global strategy
Through this approach to transnational education we are building our international presence in a sustainable way. We currently have more than 22,000 students studying for Coventry University degrees overseas, and this number is set to rise significantly over the next few years.
This provides a significant income stream (the value of TNE income was £11.75m in 2021/2) and also helps to boost our profile overseas – increasing the number of students choosing to study at CUG campuses in the UK and increasing the likelihood of us winning significant enterprise and research contracts.
Supporting the development of these relationships is our network of Global Hubs, with local teams who understand and can champion their region and what it has to offer as an equal partner.
TNE is a growing industry, largely due to the high regard that the world has for UK education, but also because of the high cost of an international education for students travelling from overseas.
This is why we expect our TNE business to grow significantly as we transform ourselves into a Global Education Group.
Our partnership with BSEP is fundamental to our long-term commitment to our work in Morocco, where we will continue to grow our presence in the years ahead.
The two institutions launched in Casablanca will be joined by others in Agadir next year, with further additions planned in the near future.
In Egypt, work continues on the new TKH West campus, which, when complete, will allow us to reach an even broader range of students and enable us to increase the number of programmes on offer.
There is a massive demand for healthcare training in Egypt and the wider region, and we hope this move will accelerate our plans to help improve healthcare across the globe.