Coventry University to welcome hundreds of nurses for international DAISY Day Conference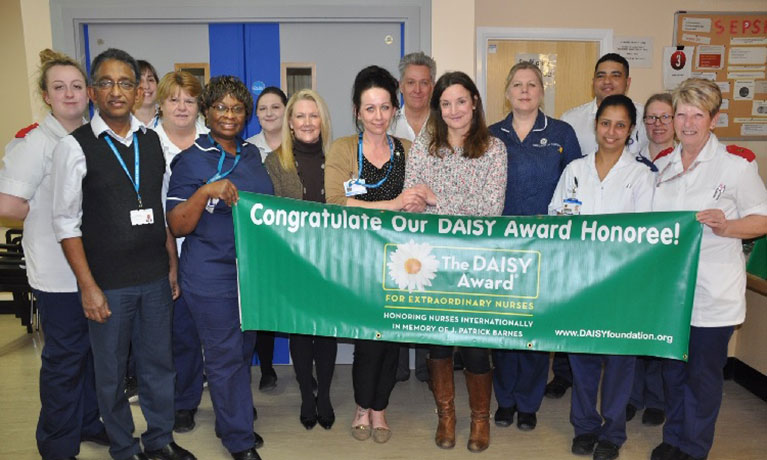 ---
Thursday 01 June 2023
Press contact
---
Hundreds of nurses and nurse leaders from across the world will come to Coventry for an international conference.
Coventry University will be the host venue for The DAISY Foundation conference which will also see parts of the two-day event take place in the iconic Coventry Cathedral. This year's conference in June is titled 'Why Nurses Stay?' and is centred on understanding what drives retention of nurses and the importance of meaningful recognition of their work.
Recent reports suggest a huge injection of nurses, doctors and other NHS staff is needed to fill a blackhole of more than 150,000 staff which could rise to higher than half a million over the next decade or so.
The DAISY Foundation is a not-for-profit organisation created in 1999 by the family of J. Patrick Barnes who died aged 33 from complications of an auto-immune disease, giving rise to the name of DAISY - Diseases Attacking the Immune System.
Patrick received extraordinary care from his nurses and his family felt compelled to express their gratitude for the compassion and skill nurses bring to patients and families every day. The DAISY Award celebrates nurses in more than 5,900 healthcare facilities and schools of nursing around the world and the foundation have joined forces with NAME UK, a group of healthcare organisations and individuals dedicated to leading nursing and midwifery excellence, to bring the conference to the UK.
Retaining nurses is a key to solving the international nursing shortage. International DAISY Day brings together experts who will share strategies such as meaningful recognition of nurses' compassionate care that create an environment where nurses and midwives want to stay and thrive.

Bonnie Barnes, Patrick's stepmother and co-founder of The DAISY Foundation
Coventry University is excited to host the International DAISY Day Conference 2023. We are delighted to be working in collaboration with The DAISY Foundation in the USA and NAME UK to celebrate nurses and midwives and the impact they make every day on the lives of people in their care.

Whether in clinical practice, leadership, education or research roles, nurses and midwives have significant influence on the health and care outcomes of the populations they serve. Meaningful recognition of their value and contribution supports us to attract, retain and grow the healthcare workforce for the future and we are proud to stand with The DAISY Foundation and NAME UK to promote this critical message.

Amanda Royston, strategic lead for health at Coventry University
On June 15 delegates will visit University Hospital Coventry and Warwickshire, before a Chief Nursing Officers round table and evening reception at Coventry Cathedral. The following day will see the conference for 250 international guests from hospitals and healthcare organisations which will be opened by Coventry University Provost Ian Dunn and Patrick Barnes' father Mark and stepmother Bonnie.
NAME UK is delighted to have this opportunity to partner with The DAISY Foundation and Coventry University to co-produce the International DAISY Day Conference 2023 in honour of Patrick Barnes, here in the United Kingdom. Appreciation and recognition are essential to the journey to nursing and midwifery excellence and meaningful recognition powers resilience. This conference offers a great opportunity to discover how and why recognition is vital to today's healthcare.

Carolyn Fox, Chair of NAME UK
NHS organisations from across Coventry and Warwickshire including University Hospitals Coventry and Warwickshire Trust (UHCW) and Nuneaton's George Eliot Hospital are also involved in the conference.
I'm delighted UHCW will be supporting the International DAISY Conference in partnership with NAME UK. We can't wait to welcome national and international colleagues to the city.

The conference provides a fantastic opportunity to come together in recognition and celebration of the impact nurses and midwives make and their contribution to patient care and experience across Coventry and Warwickshire, recognised through feedback and DAISY Award nominations.

We're also excited for the opportunity to share some of the ways our staff are demonstrating best practice through a relentless focus on doing the basics well and open culture of learning and improvement to drive up standards and ensure patient confidence in the services that we provide across our local community.

Tracey Brigstock, Chief Nursing Officer at UHCW NHS Trust