Coventry University's new School of Nursing Midwifery and Health supporting communities in London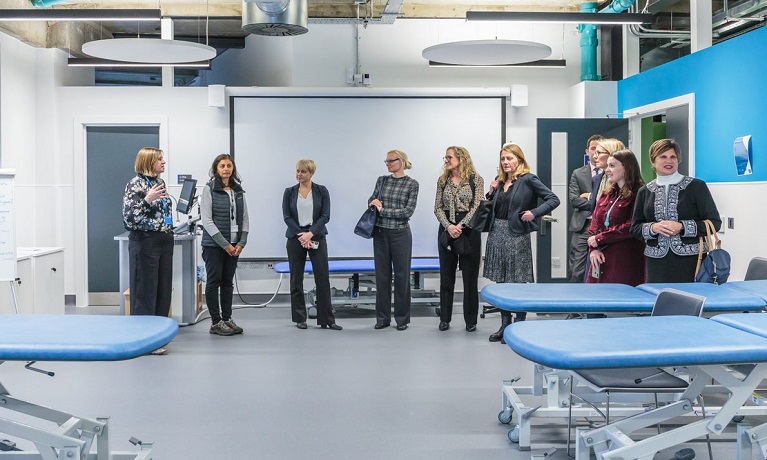 ---
Friday 17 March 2023
Press contact
---
Coventry University has officially launched its new School of Nursing, Midwifery and Health in London as it aims to address staff shortages in the NHS and the care sector.
The school has already begun delivering courses, building on its close relationship with Guy's and St Thomas' NHS Foundation Trust to now work with a range of NHS Trusts and Social Care providers in and around London.
Housed in Coventry University's newly refurbished Hudson Building in Vauxhall, the school was formally launched with an event that saw guests treated to a tour of its cutting-edge facilities.
Dr Navina Evans CBE, NHS England's Chief Workforce Officer and Chief Executive of Health Education England, was guest speaker and emphasised the vital role future medical professionals will have in their communities, as she addressed students in the room.
You are going to be more than technicians, you are going to be more than experts in your field, you are going to be important agents for change in the communities you serve.

You will be playing a really important part in the life of your communities; the pandemic has really exposed how uncomfortable we should all feel about the inequalities in our society and the role that you play and the way that you learn in a place like this is going to make a huge difference going forward.

These are state-of-the-art facilities and it's great that they are here in this part of London, giving local people fantastic opportunities, there's plenty of evidence that if you draw your workforce from your local communities, you get better connections and better outcomes for your communities.

Dr Navina Evans CBE, NHS England's Chief Workforce Officer and Chief Executive of Health Education England
We are driven by local needs, whether they be the needs of the local economy or the needs of the people, whether it be skills related or research related, in the UK or internationally.

Health is huge for us, not just for us here in the UK but around the globe, with almost every government we speak to one of the things they want to talk about is health.

We're doing a lot of work in Scarborough particularly working with the York and Scarborough Teaching Hospitals NHS Trust, we've got work going on around Salisbury, where we've been chosen by the hospital there to be their education collaborator of choice.

We're moving to becoming a national provider of health education and this building in some ways is the embodiment of that.

Professor John Latham CBE, Vice-Chancellor of Coventry University
I really like the facilities we have available here, the rooms are quite spacious and the groups are fairly small, which is great for us. The lecturers here are really engaging and there's some hands-on parts of the course which are very helpful.

In occupational therapy we learn about topics beforehand and then we get the chance to debate them with each other, it's interesting to see different people's perspective on things.

I've grown up in London so it was really important for me to be able to stay local and study at a great place like this.

First-year occupational therapy student Rimshah Bibi
The School of Nursing, Midwifery and Health is currently offering a range of courses including nursing, nursing associates, occupational therapy and physiotherapy as undergraduate degrees, post-graduate pre-registration masters and apprenticeships.
Find out more about nursing, midwifery and health courses at Coventry University.