Coventry University volunteers to support British Transplant Games athletes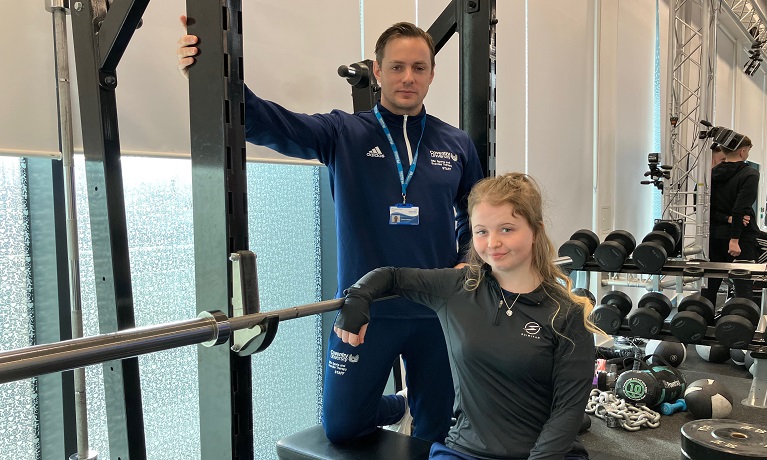 ---
Thursday 06 April 2023
Press contact
---
Coventry University will host a dedicated sports therapy centre to support athletes competing in this year's British Transplant Games as the long-awaited event returns to the city.
The countdown to the games, which take place between 27 and 30 July, officially began at a launch event at Coventry University in December.
Organised by Transplant Sport, the Westfield Health British Transplant Games are designed to raise awareness of the need for organ donation, encourage transplant recipients to lead active lifestyles and to show appreciation for donors and their families.
Coventry University plans to open the doors to its Sport & Recreation Centre and The Place to host basketball and football events.
The university will also support the event through its sports therapy centre at the Alison Gingell building on its city centre campus, run by a 30-strong volunteer team of students, lecturers, alumni and other therapists from Coventry.
One of those set to compete is Coventry University first year sports and exercise science student Hollie Simpson, 20, who received a kidney transplant from her dad in 2008.
As a Level 2 athletics coach, swimming instructor and UKA official in track, sport has always been hugely important to Hollie and she's no stranger to the Transplant Games.
I've been competing since I was six years old and I'm 20 now. My first Transplant Games were in Coventry in 2009 and I've been to every event since, as well as two World Transplant Games and two European Games. I've won more than 60 medals since then.

They are fantastic events to go to, they've always got a great family atmosphere, the same faces are there each year and I've got friends I see every time I compete.

Having the sports therapy team at the games is very important, I know that they really helped me in 2016 when I picked up a calf injury and gave me the reassurance that I needed, they were there to speak to you if you were worried about anything.

I chose to do my course at Coventry University because I know that they offer you that bit of extra support that not all universities do.

I'd encourage families to have the chat about organ donation, it has the power to change people's lives.

Hollie Simpson
Thomas Hames, Course Director for Sports and Exercise Therapy at Coventry University who has been involved in the British Transplant Games since 2016, will be among those helping at the sports therapy centre.
It's a great event and athletes represent their hospital trusts or units. Donors and donor families also support the event and the Transplant Games are all about showing that huge level of respect the athletes have for them.

Our team of sports therapists know what it means to athletes to compete at this event, so they'll do everything possible to help.

In addition to the benefits this has to athletes, for our students it's a hands-on practical, client-facing-experience, which gives them a great insight into what they can expect to come across during sporting competition.

Thomas Hames, Course Director for Sports and Exercise Therapy at Coventry University
Around 2,500 participants are expected at this year's Westfield Health British Transplant Games.