Coventry University strengthens ties with Beifang International Education Group following new agreement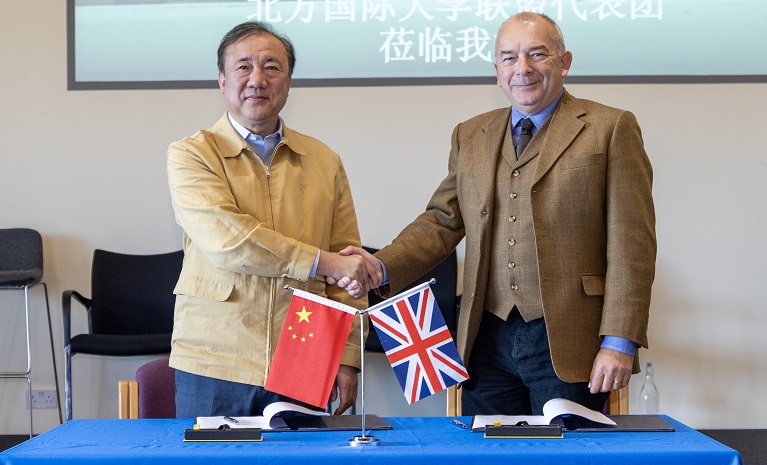 ---
Wednesday 01 November 2023
Press contact
---
Coventry University has opened the door to closer collaboration with a major university group in China, potentially unlocking new opportunities for students.
A memorandum of understanding between Coventry University and the Beifang International Education Group (BIEG), China's largest private education company, was signed on 25th October during a ceremony in Coventry, attended by a delegation from BIEG.
BIEG runs 22 universities and vocational schools across some of China's biggest cities and has around 350,000 students, many of whom will study abroad for a proportion of their studies.
The MOU will formalise the relationship with BIEG and potentially open up new collaborations with the group.
The agreement is designed to increase staff and student mobility between both parties and could mean more students from BIEG progress to study Coventry degree programmes.
We are delighted to welcome the distinguished delegation from Beifang International Education Group to our campus. Beifang International Education Group is the largest private education company in China both in terms of the number of universities and number of enrolled students.

Their visit signifies the strengthening of bonds between our institutions, fostering collaboration, and the exchange of knowledge and experiences. We look forward to the opportunity to explore new horizons in education and forge meaningful collaborations that will benefit students, staff, and the broader academic community. This visit marks a significant milestone in our commitment to global education and cultural exchange.

Professor Jingjing Xu, Associate Pro Vice-Chancellor and Academic Dean/Group Regional Director (China) at Coventry University
Developing strong relationships with respected academic organisations across the globe is key to our approach at Coventry University. We believe in the transformative power of education to shape a better world and we're thrilled to be signing this MOU with BIEG.

Professor John Latham CBE, Vice-Chancellor of Coventry University Group
BIEG is devoted to building the best private education brand in China and worldwide by focusing the core strategy to provide high-quality international education with a personal focus.

BIEG is also actively focused on expanding the scope of international cooperation and improving the level of education on a global scale. We are excited to continue the further cooperation with Coventry University and giving our talented students access to high-quality education resources.

Weichang Yang, CEO of Beifang International Education Group
Find out more about BEIG.