Coventry University Group set to open second branch campus in Egypt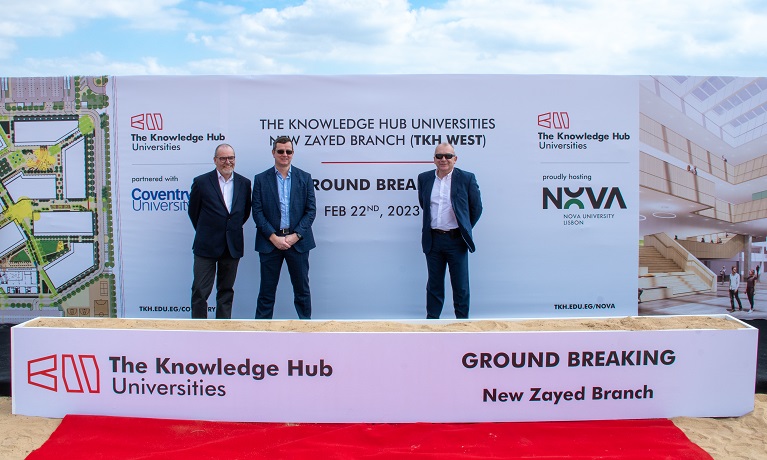 ---
Thursday 16 March 2023
Press contact
---
Coventry University Group is continuing its international expansion by working with The Knowledge Hub Universities to build its second branch campus in Egypt.
The Group brought its UK curriculum to TKH's state-of-the-art campus in the New Administrative Capital for the first time in the 2019/20 academic year.
The move was part of a collaboration with El Sewedy Education and has seen Coventry undergraduate programmes delivered in Egypt under the oversight of Coventry's UK-based faculties - Arts and Humanities, Engineering, Environment and Computing, Health and Life Sciences, and Business and Law.
Due to the success of that collaboration, TKH and Coventry University Group have broken ground on a prospective new branch campus, TKH West, in a strategic location in New Zayed City.
The construction of the first phase of the new branch campus is set to begin soon and is expected to be completed in 2024.
TKH West will be the Group's fourth international campus, joining TKH East, Wroclaw in Poland, and the joint institute with Communication University of China that launched in September 2022.
Coventry University's global outlook has also seen it establish a network of global hubs, in Brussels, Dubai, Singapore, Rwanda and Beijing, and in 2023, more than 22,000 students studying Coventry University degrees overseas.
An agreement for a new branch campus in Morocco is also in place.
For Coventry University Group Vice-Chancellor Professor John Latham CBE, the development of TKH West highlights the success of the group's international work.
This is a significant step as it highlights that our work as a global education group alongside communities in creating better futures is making an impact. This is happening through the power of our teaching, research and enterprise and innovation activity, allowing us to act as an economic development partner.

TKH East became our first international branch campus and it is testament to the success of that collaboration that we are now seeking to expand our offer in Egypt.

TKH West will allow us to reach a broader range of students and enable us to increase the number of programmes we have on offer in Egypt.

There is a massive demand for healthcare training across the world, we have one of the largest provisions and so we hope this move will accelerate our plans to help improve healthcare across the globe.
The TKH West groundbreaking was attended by key figures including Ihab Salama, CEO of El Sewedy Education, Professor Richard Wells, Coventry University Group Pro-Vice-Chancellor (International), Gary Armstrong, Coventry University Associate Pro-Vice-Chancellor (International Business Development), and senior members of El Sewedy Education management.
TKH West will have the same quality standards that have been implemented at the New Administrative Capital branch, ensuring that the first phase of the project will be delivered during the next academic year.
Discover more about The Knowledge Hub Universities.