Coventry University entrepreneurs win crucial funding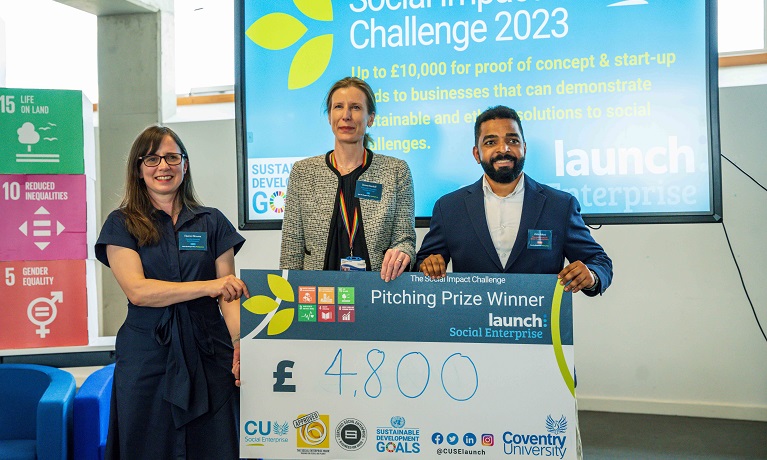 University news / Business news
---
Thursday 20 July 2023
Press contact
---
A Coventry University graduate has secured a £4,800 investment to explore the use of seaweed and algae in diabetic wound-healing plasters.
Zahir Al Alawi's idea to help address slow wound healing in diabetic patients was one of ten pitched by entrepreneurs hoping for a share of £25,000 at a special event organised by the CU Social Enterprise team.
It was part of Coventry University's Launch Programme, with funding from Santander Universities UK, and aims to empower entrepreneurs with crucial funding opportunities for their start-up journeys.
The Launch Programme has provided me with invaluable support to explore the potential of seaweed and algae in diabetic wound-healing plasters, addressing a significant healthcare challenge.

The funding and mentoring support I've received will enable me to test and refine my innovative solution. I highly encourage fellow students with entrepreneurial aspirations to take advantage of the opportunities offered by the Launch Programme.

Zahir Al Alawi
Another successful entrepreneur was Coventry University student Radman Rock, who secured a £5,000 grant from the panel to help him take his media production business, RadmanTV, to new heights.
The Launch programme opened my eyes to the incredible funding opportunities available for start-up businesses and the unwavering support Coventry University provides to its entrepreneurs.

Pitching for a share of the money pushed me to refine my business plan and I intend to use the funds to grow my media company, Radman TV, to achieve big goals. My team and God have been instrumental to my success and I'm immensely grateful to Coventry University for the funding that will propel us forward.

Radman Rock
We take immense pride in the transformative opportunities offered through our Launch Programme, an entrepreneurial development programme, which serves as a vibrant showcase of entrepreneurship in action.

Not only do we provide a dynamic platform for aspiring entrepreneurs to unlock their full potential but we also wholeheartedly champion their businesses by nurturing their innovative ideas and ambitions.

Husen Ismail, Enterprise Programme Manager at Coventry University
At Santander, we recognise the crucial role that start-ups, scale-ups and small businesses play in building and strengthening the UK economy. We support the innovators of the future at every stage of their journey, connecting them to the funding, training, exposure, and networks they need to grow their business ideas.

Matt Hutnell, Director, Santander Universities UK
Find out more about Coventry University's Social Enterprise Team.