Evaluation report highlights benefits City of Culture year brought to Coventry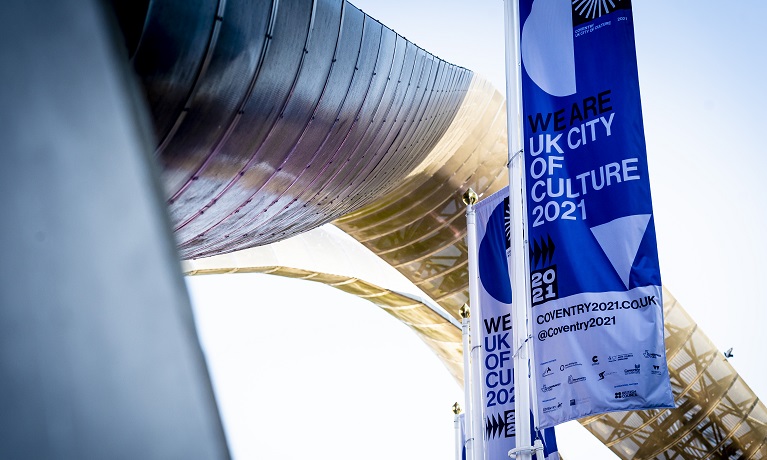 University news / Research news / City of Culture 2021
---
Thursday 02 November 2023
Press contact
---
Coventry's year as the UK's City of Culture involved every ward and neighbourhood across the city, with more than 3,000 community dancers, musicians, poets and makers taking part in more than 700 events.
The title and year-long programme helped bring millions of pounds of investment into the city and stimulate a £150 million boost in tourism income above pre-Covid levels, research by Coventry University and the University of Warwick shows.
Just under half (47%) of all Coventry residents engaged with City of Culture events between May 2021 and June 2022, with 57% of the programme being free to access and, excluding commercial events, 77% of events were co-created with residents.
During its seven year lifespan, the City of Culture Trust received £44.5m to bid for, win and deliver City of Culture, with £183.1 million of additional investment flowing into the city secured at least in part due to the award of the UK CoC 2021 title.
The universities conducted a comprehensive review, which evaluated participation and engagement numbers, the social and economic impact and how the programme adapted to the challenges of the Covid-19 pandemic. All reports have now been collated on to one website.
Among the other achievements of Coventry's year as City of Culture were:
Coventry's time in the spotlight generated a media value of over £127 million from the point of bidding until June 2022.
In 2022, Coventry experienced a strong recovery in the economic impact of tourism, reaching £750.86 million (£156.5 million higher than 2019, pre-Covid).
Across physical and online activity, it is estimated that there were over one million points of engagement with the programme.
Target areas of historically low cultural participation saw increases of an average 36% for regular engagement with publicly funded culture in the city and 41% of tickets issued went to citizens from Coventry's lower socio-economic groups.
1,515 citizens became fully trained City Host volunteers and 91% stated they fairly or very strongly had a sense of belonging to Coventry.
City of Culture events were scheduled to commence in January 2021, but the start of Coventry's 12-month programme was delayed until May 2021 as a result of the Covid-19 pandemic.
In response, key events were live-streamed using social media platforms, including the opening event, Coventry Moves, and the closing event, Our Wilder Family.
Working in partnership with the BBC and Sky Arts, the combined reach of programmes was more than 100 million, with TV reach for City of Culture content in excess of 4.5 million.
In February 2023 the City of Culture Trust went into administration having publicly reported financial pressures in October 2022. In June 2023, Coventry University, the University of Warwick and Coventry City Council announced their support for Coventry Culture Works, which will see them work alongside leaders from the cultural, creative and wider sectors in the city to help take culture forward and deliver the city's ambitious 10-year Cultural Strategy.
This independent report shows that our year as UK City of Culture was a success overall with millions attracted to the city for investment in public realm and to transform our cultural and heritage assets.

There were challenges during the year caused by the pandemic including social distancing restrictions when it first started, but the report is clear that the year overall brought some real successes both during the year and afterwards.

Although there were considerable successes, we have also identified how things could have been improved which has led to initiative such as the Coventry Culture Works. This pioneering partnership made up of the cultural, creative and business sectors, together with the Council and two universities, has been set-up to deliver Coventry's ambition in the future.

Cllr David Welsh, Coventry City Council's Cabinet Member for Housing and Communities which covers arts and culture
In the face of Covid-19, Coventry's year as City of Culture delivered joyful, thoughtful and inspirational activities of cultural, social and economic value across the city. The research report and platform detail the benefits, lessons and support for future cultural investment in the city and Coventry University Group is proud to be part of that future investment.

Professor Nick Henry, Director of Coventry University's Research Centre for Creative Economies
The final evaluation platform is a rich source of evaluation and research that provides insights into the impact and challenges of the UK City of Culture 2021. Providing learning about what worked and what worked less well over the life of the programme. It will be a vital point of reference for future major cultural events.

Professor Jonathan Neelands, Academic Lead for Research and Evaluation for UK City of Culture 2021, from the University of Warwick
Find out more about the evaluation of UK City of Culture 2021.