Big screen director to feature in return of Coventry Phoenix Film Festival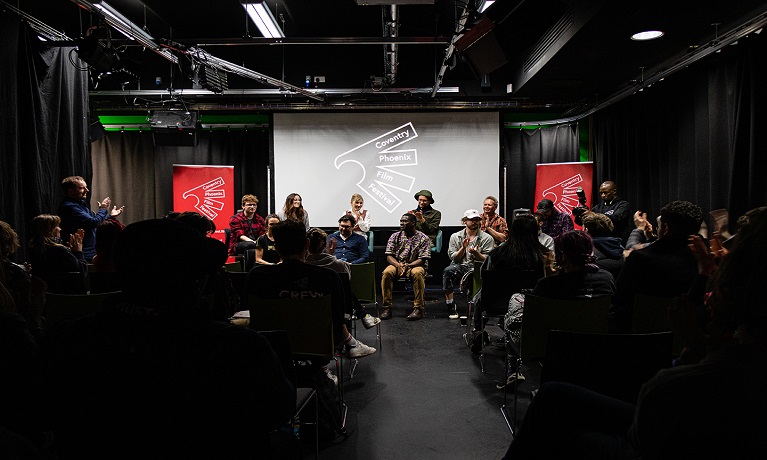 ---
Thursday 20 April 2023
Press contact
---
Fans of the big screen are set to welcome the return of Coventry Phoenix Film Festival this week with prominent industry experts joining the event to help inspire up and coming film-makers.
BAFTA and EMMY award-winning writer and director Debbie Isitt, of Nativity fame, will take part in a special panel discussion about film production in Coventry, while those involved creating the films featured at the event will be on hand to answer questions about how they were made.
The festival at Fargo Village is run by students from Coventry University's BA Film Production, BA Media Production, MA Media Management and MA Film and Media Production courses, who have selected the films to be shown and helped to promote the event.
The aim of the festival, now in its second year, is to celebrate not just films made by students in Coventry but from across the world, while creating networking opportunities for film makers.
All events at the festival are free but those wishing to attend specific talks and screenings will need to register their attendance on Eventbrite, with details available via the festival website.
This festival is about building a bridge between the university and the incredible film community we have in the city. Some of the films selected for the screenings are made by students and graduates but it's a festival open to all so we've got others from right across the world and the quality of work is fantastic. They're all very professional productions and film makers will be there to host Q&A sessions after their films are shown.

This festival reinforces to our students that what they are creating in their courses isn't just coursework, film is made to entertain audiences and being able to show your work to them is an amazing experience. Film is a tough industry but festivals like this play a vital role because not everything you see on screen is commissioned, a lot of films are first spotted at festivals and picked up from there.

The final film of the festival, and our only feature length showing, will be the screening of the Dance Craze documentary, the remastered version of the 1981 concert film featuring the best of 2 Tone Records. Saturday coincides with Record Store Day and with the passing of Terry Hall of The Specials last year we thought it would be very special to end the event with this film.

Dan Hopkins, Festival Director and Course Director for BA Media Production and MA Film and Media Production at Coventry University
The Coventry Phoenix Film Festival takes place this Friday and Saturday 21 and 22 April.