Coventry City FC's future stars given food for thought by Coventry University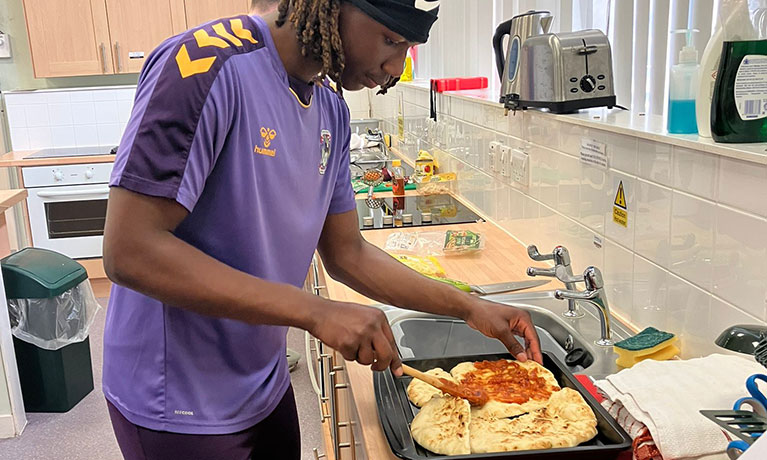 ---
Monday 17 April 2023
Press contact
---
The next generation of Coventry City stars have been learning about giving themselves the right type of fuel ahead of matchdays – thanks to Coventry University.
A group of 13 to 16-year-old Sky Blue hopefuls entered the university's teaching kitchens at the Charles Ward building to learn the importance of eating the right things, not only for life in general, but also to get them ready for 90 minutes of action on the football pitch.
This saw them swap their football boots and tactic boards for knives, saucepans and chopping boards, as they set to work on pasta dishes or pizza, as well as carbohydrate dense snacks, while also learning about getting the right levels of nutrients.
This will become an even more important part of the lives of the older lads next year when they move away from home as part of being in the Coventry City Academy.
As part of those preparations, placement students on the university's MSc Sports and Exercise Nutrition course have also been visiting the Academy youngsters at their base at the Alan Higgs Centre to pass on a number of much-needed skills.
Things like this really strengthen the links between Coventry City FC and the university, where we have that constant flow of placement students, whether that's nutrition or sports science, it really strengthens that link within the city.

Neil Clarke, Coventry University's course director for Sports and Exercise Nutrition MSc
The lads are doing their cooking lessons with the placement students that we take from Coventry University. We've had one or two this year that have come in and helped deliver our life skills program, in conjunction with Sophie Reynolds who is our Head of Academy Player Care, and this is based on many things including performance aspects such as nutrition and psychology, as well as general life skills such as finance management, first aid, mental health and wellbeing awareness.

This is a really good opportunity for our lads to come and get those additional skills, especially those who are going to be with us on a full-time program and living away from home next year, and hopefully it will benefit them in a performance and general lifestyle way.

Ryan Penny, head of academy performance at Coventry City
Find out more about Coventry University's Sports and Exercise Nutrition course