Ukrainian President addresses Coventry University students in live broadcast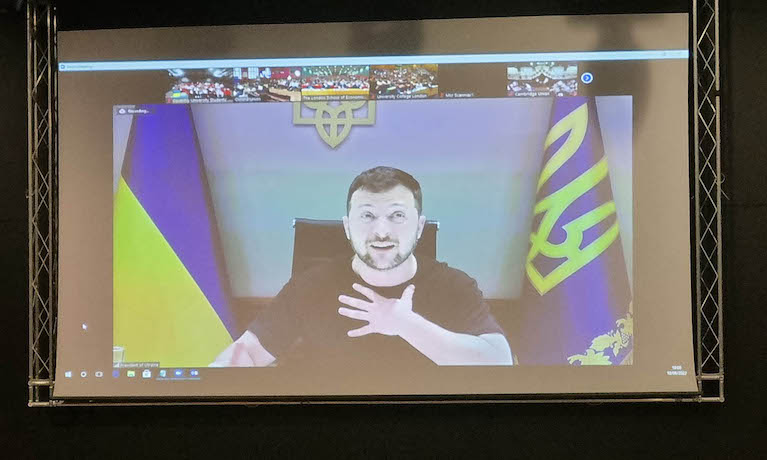 ---
Friday 10 June 2022
Press contact
---
Ukrainian President Volodymyr Zelenskyy has today addressed students at Coventry University during a special live broadcast to a small number of UK universities.
He told them that for 107 days Ukraine has been 'opposing barbarians' and compared the damage inflicted on Ukrainian cities to that suffered by Coventry during the blitz in the Second World War.
The event, organised by the Ukrainian Students Union (USU), of which Coventry University's Ukrainian Society is a member, was hosted on Coventry University's campus in the Square One theatre, supported by the Students' Union (CUSU).
Earlier this year students from Ukrainian Societies at a number of UK universities joined together to form the USU, who President Zelenskyy today addressed.
Other universities with USU members including Oxford, Cambridge and UCL also aired the address, which was translated into English.
President Zelenskyy used an eloquent quote from George Bernard Shaw as he spoke to students.
We can fly like birds, swim like fish, the only thing missing is to learn to live together like humans.

We need to encourage people and nations to solve issues over tables, not in the trenches. Our enemy is trying to erase and downplay the history, culture and importance of Ukraine.

They have a phobia of freedom at state level, they don't know what it is, they are scared of it. We are fighting for our future, they are fighting for somebody else's past.

Volodymyr Zelenskyy, Ukrainian President
Since the beginning of the war in Ukraine, President Zelenskyy has been highly visible, urging international leaders to support the country in the face of Russian aggression.
Ukrainian students have played an important role in supporting their country, raising awareness and fundraising to help humanitarian efforts.
Following the address, Pavel Pimkin, President of Coventry University's Ukrainian Society also had the chance to pose a question to President Zelenskyy.
Since the war began President Zelenskyy has spoken to students in the USA and Canada and we were keen for him to speak in the UK too, but instead of just addressing one university, we thought it would be great to broadcast to a larger group.

The USU has a close bond with the Ukrainian Embassy, and our core team worked hard to make this possible.

It is not just students President Zelenskyy has engaged with during this war, he's addressed parliaments and welcomed world leaders in Kyiv. However, I think he understands students are the future of our nation, they've organised protests, fundraised for Ukraine and been enthusiastic in their support for Ukraine – we have a very powerful voice.

Pavel Pimkin, President of Coventry University's Ukrainian Society
President Zelenskyy's decision to speak to students at Coventry University is a demonstration of the Ukrainian Government's continued interest in the power of education, despite the terrible devastation that has been inflicted on the country during this war.

I would like to commend Pavel for his role in organising this event with the Ukrainian Students' Union at Coventry University, we're very proud of both his endeavour in making this happen and that this address was hosted on our campus.

Professor John Latham CBE, Coventry University Vice-Chancellor
Information about how you can support Ukrainian students and the Ukrainian people at Coventry University can be found on the CUSU website. Collection points where people can donate vital supplies to help Ukrainian families fleeing the war can also be found at this address. Find out more about the Ukrainian Society.
The Students' Union Advice Centre can offer help to students directly affected by the events in Ukraine.
Find out more about humanitarian fundraising for Ukraine by visiting the official fundraising page of the Embassy of Ukraine and you can find out more about The Ukrainian Students on Instagram.