Coventry University students to participate in Model NATO event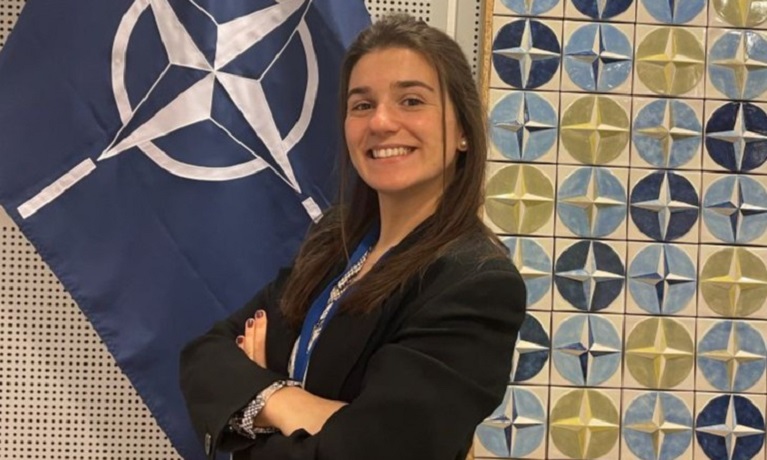 ---
Friday 18 February 2022
Press contact
---
A group of Coventry University International Relations students will get an opportunity to meet leading figures in their field and experience the workings of international diplomacy when they take part in a Model NATO event in London next month.
The event comes as NATO is engaged in diplomatic efforts over the dispute between Russia and Ukraine, which the organisation's secretary-general has described as 'a dangerous moment for European security.'
BA (Hons) International Relations students Catarina Dinis Franco, Goda Juskaite, Toby Cooke, Petra Pusztai, Naota Lee and Arnita Zukauska will participate in the simulation event as delegates representing Luxemburg and Albania.
The Model NATO event is organised by the British International Studies Organisation in partnership with the Foreign, Commonwealth and Development Office (FCDO) and will take place on Friday 11 March at the FCDO's offices in Central London.
The students will join participants from 14 other universities from across the UK to learn about how NATO works and the significance of the alliance for UK and European defence.
Having an opportunity to participate in a NATO-led event is a tremendous experience for any student of International Relations. Model NATO provides hands-on understanding of NATO structures and challenges you to apply your knowledge in practice, all the while having officials and diplomats of the most important global alliance ready to advise you on any security topic. I believe this experience will serve a great purpose in any career path I choose to take.

Goda Juskaite, BA (Hons) International Relations final-year student
I've enjoyed many active learning opportunities in my time at Coventry University, and this Model NATO simulation will be my second participation in a crisis simulation event. These events are both fun and great opportunities to discuss and compare several points of view, get to know the mechanisms of the institutions we aim to work with and to meet students from other universities in the UK.

Catarina Dinis, BA (Hons) International Relations final year student and participant
As well as London, Model NATO has seen simulations in cities including Washington DC, Bologna and Brussels. Preparation for, and involvement in, the event is often transformative for participants, inspiring students to start careers and projects in diplomacy, government and military service.
The Model NATO event provides students with opportunities for active learning as they can apply what they've learned on their course to real world situations under the guidance of experts.

Dr Felix Roesch, Associate Head of The School of Humanities, Coventry University