Students experience life on the airwaves as Radio 1 comes to Coventry University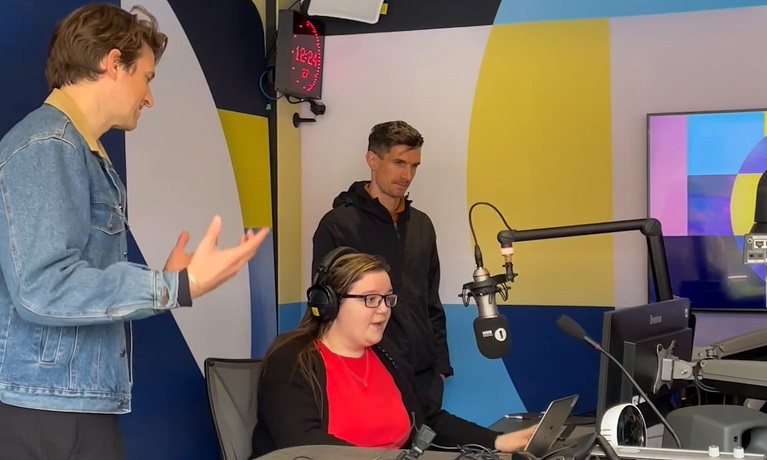 ---
Thursday 26 May 2022
Press contact
---
Coventry University found itself at the centre of the radio universe this week with one of the UK's most popular shows broadcasting live from campus.
University Square has been home to Radio 1 Breakfast with Greg James since Monday ahead of the station's Big Weekend festival in Coventry at the weekend.
The programme's decision to broadcast in Coventry has offered the unique opportunity for students to experience what it takes to produce one of the UK's most popular radio shows.
Students from Coventry University's School of Media and Performing Arts got to go inside Radio 1's mobile studio, work with the equipment and meet both the technical and breakfast production teams for a Q&A session.
During their stint in Coventry, the Radio 1 team are also dropping into the studios of the Students' Union's own station, Phoenix Radio, recording an interview with its student presenters Jude Avery, Kristof Kiss and Madison Griffiths in its Radio Room.
Jude, Kristof and Madison will discuss everything from university life to what it's like to work on Phoenix Radio, with the interview expected to be broadcast on Radio 1 during the Big Weekend.
I'm delighted that we've got a major event like this taking place in Coventry which puts radio and the power of broadcasting at the forefront of people's minds. Our students were given an exceptional opportunity to see people working in a variety of high-profile industry roles in their chosen area of study. And I've no doubt it will inspire them to achieve even greater things in their courses here and in their future careers in the UK's vibrant creative industries.

Dr Annabelle Waller, Head of School of Media and Performing Arts at Coventry University
Radio is a growing area, which may seem odd for someone in their 40s who has always grown up with it to say, but through podcasts and YouTube, more and more young people are coming to it and developing an interest in creating content for it. It's great for the industry as well as for audiences and as a result there is more new blood coming into this area of media production which Coventry is helping to develop.

Assistant Professor Dan Hopkins, Course Director Media Production, at Coventry University
Going to see Radio 1 was amazing, I've listened to Radio 1 for the past three or four years and seeing it in person was pretty cool. I think it will be really good for my career because I want to go into radio, TV and broadcast so seeing something like that first hand was really helpful. My biggest takeaway was seeing how they plan shows and script things on the system itself.

Media Production student and Phoenix Radio presenter Jude Avery
For those interested in a career in radio there are few better places to be than Coventry at the moment.
Last Friday (20 May) the BBC Radio 1 Big Weekend Connects' Masterclass, hosted by Danni Diston, took place at the HMV Empire, designed to engage young creatives aged 18 to 25, with a passion for radio and content creation. Students who attended the event including those from music technology and media production courses, picked up valuable advice such as how to pitch ideas to producers, how a Radio 1 playlist is created and advice on how to improve their CVs.
This Friday (27 May), The Radio Academy, the UK radio and audio industry charity, will hold its training day at The George Eliot building and The Hub at Coventry University.
It will include sessions on programme production, podcasting, music radio, news and speech, features, imaging, and technology and end with a 'demo clinic' for aspiring presenters to get advice from programmers about their latest work followed by a networking event.
The sessions will be led by high-profile names in the industry and students at Coventry University are being offered the chance to attend alongside radio industry professionals.
Radio 1's Big Weekend 2022 takes place at Coventry's War Memorial Park this weekend (Friday 27th - Sunday 29th May) featuring artists such as Ed Sheeran, Calvin Harris, Anne-Marie and YUNGBLUD.