Former nurse returns to NHS wards to help combat COVID-19 thanks to Coventry University course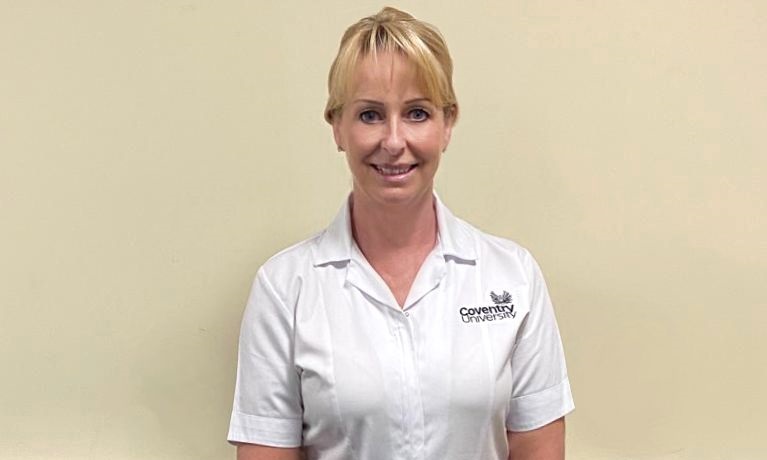 ---
Thursday 10 March 2022
Press contact
---
When the COVID-19 pandemic started in 2020, former nurse Sharon Swords was frustrated that she couldn't return to the wards to help the NHS - but thanks to Coventry University she is now back on the frontline.
Sharon fulfilled her childhood dream of becoming a qualified nurse in 1984 but later moved into the pharmaceutical industry so she could spend more time with her son.
Fast forward two decades and Sharon's employers Johnson & Johnson UK gave qualified doctors, nurses and pharmacists Medical Personnel Leave to return to the NHS and care for patients due to the global health emergency.
As her registration had lapsed Sharon was unable to return but after joining Coventry University's Return to Practice course in May, she secured a placement to help fight coronavirus at Warwick Hospital.
I left nursing due to personal circumstances, not because I didn't want to be a nurse. Nursing is in my blood and it was the pandemic that really inspired me to return.

When our medics, pharmacists and nurses that still had their registrations went back to care for patients I felt useless because I didn't have my registration. I was so frustrated, knowing that I had skills and the passion but couldn't help.

I found the Return to Practice course, realised I could run it alongside my full-time job and returned to the wards to care for patients.

Sharon Swords, Return to Practice student
The Return to Practice course can take three-months to a year to complete, consisting of a 12-week module, an assignment and a minimum of 150 hours clinical placement.
The Health Education England (HEE) backed course has supported 7,978 nurse returners like Sharon since its inception in 2014 and she has urged more former nurses to renew their registration and return to the frontline.
I was a surgical nurse, then in the pharmaceutical industry I specialised in oncology and haematology. I've been working on a haematology ward at Warwick Hospital and my knowledge of medicine has gone through the roof due to this course and the placement.

If anyone is thinking of returning then my advice is to just have confidence. You have been there once, you did all that training, passed all your exams and all you need to do is upskill again. If you still have that passion to help people, then believe in yourself and go for it because your skills are still needed.

Sharon Swords, Return to Practice student
Discover more information about the Return to Practice course.