Two-year musical theatre degree to widen access to a stage career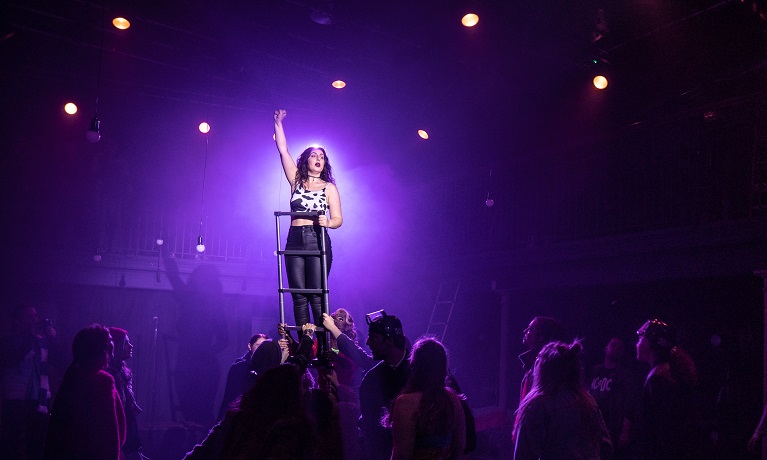 ---
Wednesday 05 January 2022
Press contact
---
The International College of Musical Theatre (ICMT) and Coventry University are working together to help actors steal the show sooner by launching the first accelerated Musical Theatre Performance degree course in England.
The two-year course is a first for conservatoire-style vocational training and has been designed to help get students out into the industry, on stage, and starting their career sooner - which could cut the cost of studying to allow more people from different backgrounds to enter the profession with a degree.
The BA (Hons) Musical Theatre Performance degree will be delivered out of the ICMT Campus in central London and validated by Coventry University, with a faculty of current performers, directors, choreographers, musical directors, singers, and leading practitioners in their respective fields taking students through intensive practical-based triple-threat training across the core disciplines of singing, acting, and dancing.
Principal and the ICMT Co-founder Kenneth Avery-Clark says the new degree has been designed to make acting more widely accessible.
We attract many students who have completed a 3-year degree programme and then come to us for an additional practical year, to become industry-ready.

When they eventually reach their goals, they have studied for four years and have spent a lot of money on living and tuition fees. Now, they can come to us first, start an intensive programme from day one, save money and get a full degree on top.

There is a large number of young and talented individuals who cannot pursue the arts due to economic constraints. An accelerated degree will ensure the performing arts are more widely accessible.
For Judith Mossman, Pro-Vice-Chancellor for the Faculty of Arts and Humanities at Coventry University, the collaboration is another chapter in the university's proud history of championing the arts.
We are delighted to be offering the first accelerated musical theatre degree course in England in collaboration with the International College of Musical Theatre.

Musical theatre is the origin of all western theatre - it has its roots in Greek tragedy in the 5th century BC, which evolved into opera during the Renaissance.

During the pandemic we have all missed the unique buzz musical theatre can give.

Coventry University has a proud history of championing the arts, thinking internationally and developing industry ready graduates - which is why we Dreamed a Dream and developed this wonderfully cosmopolitan course, to ensure there will always be Another Op'ning of Another Show. So Vesti la giubba (On with the Motley)!

The show must go on!
Applications are now open for the course starting in September 2022.
To apply or for more information please email: info@theicmt.com