Green Week campaign urges people to take small actions to save the environment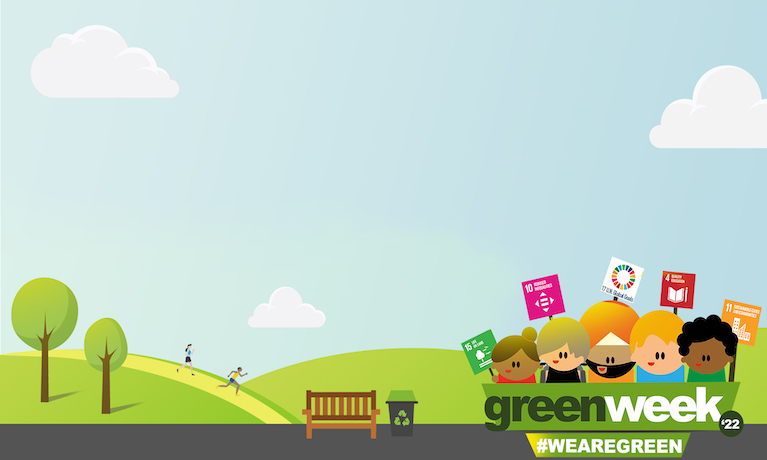 University news / City of Culture 2021
---
Monday 07 March 2022
Press contact
---
People in Coventry and Warwickshire are being asked to enjoy a plant-only diet, forego single use plastics, take shorter showers, or take whatever small action they can to support a more sustainable future as part of this year's Green Week celebrations.
Now in its fifth year, the environmental sustainability initiative is championing the 'one small act' campaign to demonstrate that small actions can contribute to a huge environmental impact.
Green Week originated from talks between Coventry University, the University of Warwick, and Coventry City Council, and has since grown to include schools, business, community groups and charities.
Green Week aims to educate local communities about environmental sustainability and inspire small acts at all levels.
Some of the changes people could take during Green Week to reduce their personal carbon footprint include:
Taking a shorter shower
Eating vegetarian more often
Reducing overall consumption

Buying local food and products where possible
Cycling or walking
Not using single use plastics
During Green Week – Monday 7 March to Sunday 13 March - organisers will host a series of public events including sustainability fairs, an ethical investment forum and more. As this year's Green Week comes during Coventry's UK City of Culture celebrations, it is also an opportunity to showcase the city's green culture.
We are delighted to take part in this fifth edition of Green Week. At Coventry University, sustainable development and social responsibility are central to our corporate strategy, as reflected across all our campuses.

We are implementing a zero-carbon approach to address the direct and indirect sources of emissions and have made education for sustainable development one of the key strands to our curriculum framework.

Ian Dunn, Coventry University Provost
In 2019 the University of Warwick declared a Climate Emergency and set net carbon goals for 2030 and 2050 as an integral part of our broader responsibility to protect our environment. We are equally firmly committed to working with our staff and students to reducing our waste, increasing reuse, recycling and recovery. The way to a sustainable future will be unpredictable and demanding but it's a path every one of us will have to take and action now will surely help alleviate future issues in the region.

During Green Week we are proud to host and promote a range of different activities on campus and with our regional partners and local community to engage individuals, groups and business and demonstrate how we can take simple steps to achieve better outcomes for our planet.

Professor Christine Ennew, The University of Warwick Provost
Last year's Green Week was online but this year organisers plan to bring a mixture of in-person, online and hybrid events to make them as accessible as possible.