Coventry University graduate to showcase powerful poetry to speak up for under-represented voices in the city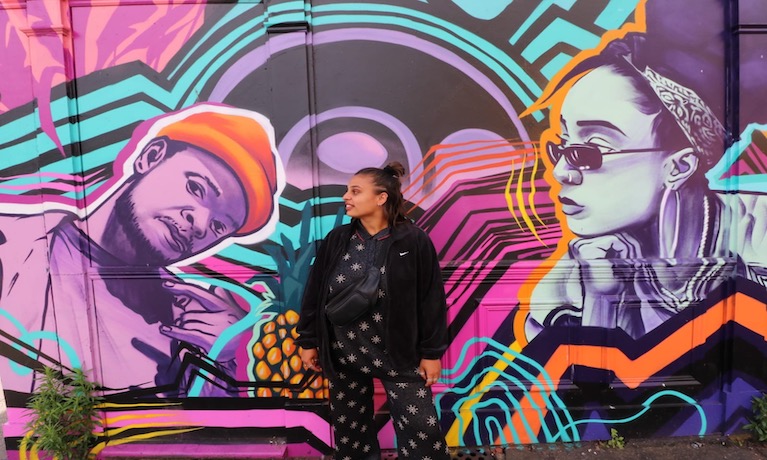 University news / Student news / Alumni news
---
Friday 20 May 2022
Press contact
---
A PhD student at Coventry University is preparing to showcase her powerful poetry at the city's Central Library in a bid to help under-represented communities feel heard and supported.
Shaniece Martin's grandparents migrated to Coventry from Kenya in 1970 and have lived in the UK ever since. Shaniece grew up in Burbage near Coventry and studied her undergraduate degree in English at Coventry University, where she is now pursuing a PhD exploring Indian English poetry.
The city of Coventry has a proud history of welcoming in new people and communities, and is home to a diverse range of cultures and ethnic backgrounds, including thousands of international students in the city studying at Coventry University.
Shaniece, who has also gone onto teach within Coventry University's School of Humanities, will have her poetry exhibition unveiled at Coventry's Central Library on 23rd May. It will be on display for the public to see and interact with for two months.
I'm so excited to be able to share my family's story with the people of Coventry through my poetry. My writing aims to represent an unheard voice, but a voice that might also be familiar and in some ways comforting to a lot of people in the community.

Coventry is a special place to me. My family have built a new life here and I really wanted to tell and showcase that story in the heart of the city. It feels like a real privilege to me to be able to get stories out there that people didn't know existed, and stories that they didn't know were such a significant part of Coventry.

My grandparents' move to Coventry has shaped a lot of my poetry and I've tried to narrate the excitement and challenges of moving to a new country through my writing.

Shaniece Martin, Coventry University PhD student and poet
The exhibition will be illustrated by posters and family photographs that help to paint a picture of Shaniece's poetry and the stories told within her poems. Visitors will also have the chance to read some of her proudest poetry and learn more about the story of her family and many others who have moved to the city.
Shaniece says she was made to feel like an integral part of the student community at Coventry University, and that she was delighted to return in pursuit of her PhD studies.
I feel really at home at Coventry University, just as my family were made to feel at home when they moved to the city more than 50 years ago. I just couldn't resist coming back to Coventry University for my PhD after completing my undergraduate degree here, and it feels really fitting that I'm able to share my family's story and our love affair with Coventry in the centre of the city.
Find out more about studying English at Coventry University.