Former student and inspiring artist Andy Leek brings supportive messages to Coventry University campus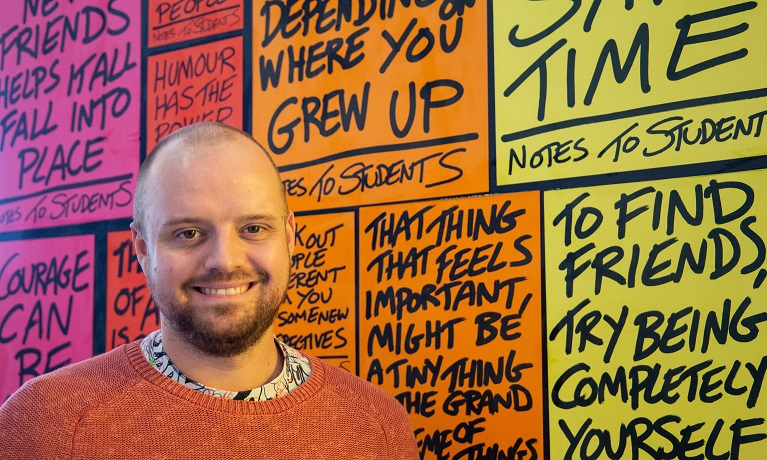 ---
Wednesday 02 November 2022
Press contact
---
A series of colourful artworks have been brightening up people's days across Coventry University's campus as part of a collaboration with one of its former students.
Notes to Students is a project from artist Andy Leek which has seen messages placed throughout the campus, designed to offer supportive guidance and advice, especially for those embarking on their university journey.
Andy, a former graphic design student at Coventry University, is no stranger to this idea having developed the concept with his Notes to Strangers project, leaving messages in random places around London.
The messages in Notes to Students have been tailored specifically for Coventry University following workshops with students who shared their experiences of university life.
The artworks were displayed throughout Coventry University's open days, where Andy also created a live art installation as part of the project.
Andy originally began Notes to Strangers, while recovering from a mental health issue, deciding to try and help strangers who might be having a hard time.
I was living in London, working too hard and partying too much and I'd just pushed myself beyond my limit.

When I recovered I remember going on the Tube, seeing all these sad faces and realising I wasn't alone in what I was suffering. I wanted to put a smile on people's faces so I started by putting cards in newspapers and eventually moved on to street art with the Notes to Strangers posters.

I wanted to do something for Coventry students because I came to this university and when I look at them, they remind me of myself, just at a different point in their journey. It's all about offering a few words of hope.

It was important to me that students were involved in this process, I'm much older than them, so I needed their help to come up with ideas that would speak to those at university.

I'm thrilled to be coming back to my old university, I made some great friends here who I still see today, this place is full of very happy memories for me. I had a wonderful time here.

Andy Leek
Find out more about Andy's work on Instagram or visit his website.