Engineering students in Singapore experience life on board Royal Navy's greenest ship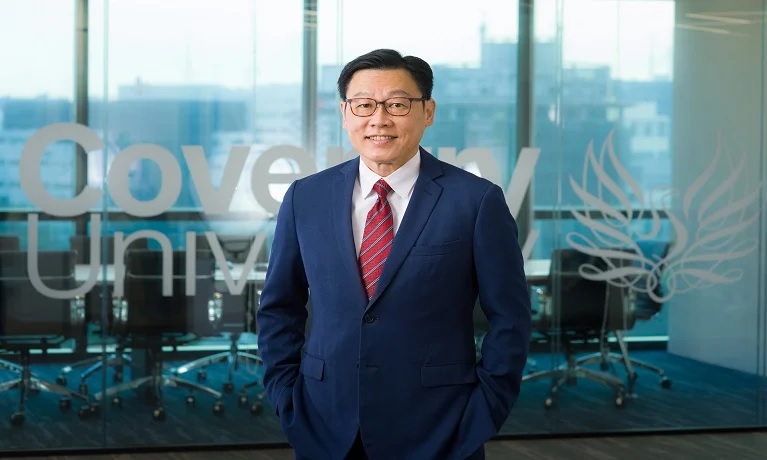 ---
Monday 16 May 2022
Press contact
---
One of the Royal Navy's greenest ever surface vessels welcomed students studying a Coventry University degree in Singapore on board for a special visit recently.
HMS Tamar is one of two Royal Navy Offshore Patrol Vessels committed to the Indo-Pacific region for the next five years, helping to tackle security challenges and supporting nations against the impacts of climate change.
It is no ordinary warship though, with the Royal Navy describing HMS Tamar and its fellow Offshore Patrol Vessel, HMS Spey, as the greenest since the days of sail.
The students at PSB Academy, studying a Coventry University engineering course, gained a first-hand experience of how the ship operates and got to see its selective catalytic reduction system, designed to reduce emissions of nitrogen oxide – which attacks the ozone layer and is also a key component of acid rain – by up to 97%.
The vessel also treats ballast water with ultraviolet light to avoid carrying invasive species and uses bacteria to clean the ship's waste water, so it can be discharged safely back into the ocean as clean water.
All this means HMS Tamar can operate across the Indo-Asia Pacific region whilst complying with the strictest of environmental legislation.
Eight students took part in the visit, as HMS Tamar underwent maintenance in Singapore.
The idea was to give the students an idea of how the ship operates, they were taken around the engine room, the control deck and were given the chance to talk to Royal Navy engineers. It was great, particularly for our female engineering students, to speak to Lt Fiona, one of the Royal Navy Engineers onboard. Seeing women working in engineering professions can only help to inspire our female students.

It was special for the students to visit such a technically advanced ship as HMS Tamar and I'd like to thank the British High Commission and the Royal Navy for allowing us to come onboard.

Michael Yap, Managing Director of Coventry University's Singapore Hub
Coventry University has a strong presence in Singapore through its Singapore Hub and the relationships it has built with organisations such as PSB Academy. This approach is replicated around the world with a series of Global Hubs in Europe, Africa, the Middle East and China and more than 150 higher education collaborators teaching 50,000 students on Coventry University degrees in more than 40 different countries. Its international appeal led to the University being granted the Queen's Award for Enterprise in the category of International Trade earlier this month.