Autistic students and graduates given opportunity to gain crucial skills as Coventry University teams up with local businesses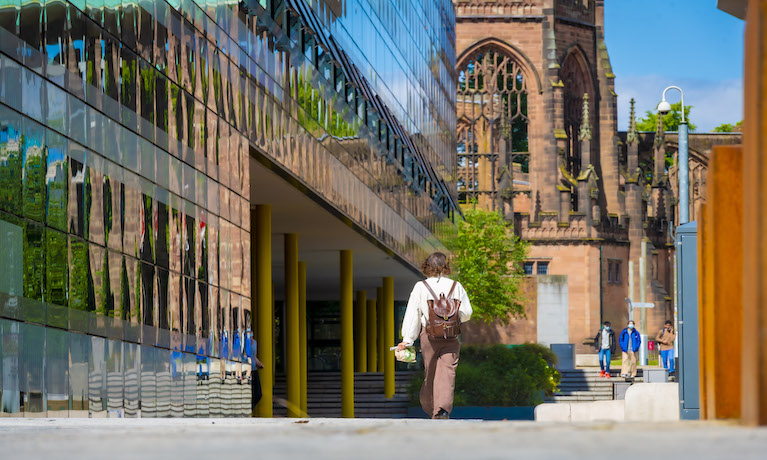 University news / Student news / Business news
---
Tuesday 15 February 2022
Press contact
---
Coventry University is working together with local businesses to help autistic students to build confidence, develop professional skills and enhance their career trajectory.
In collaboration with Santander Universities and Ambitious About Autism, the university is offering the Employ Autism programme, which places students with local employers, giving them opportunities to take on work placements and develop career prospects.
Shaune Petros-Barboutis, a final year BSc Disaster Management student at Coventry University, recently completed a work placement with Coventry City Council as part of the programme.
Shaune's role with the council focused on sustainable development, which the 21-year-old says has ignited a passion and a new career interest for him, as well as helping to boost his self-belief.
I really enjoyed working with Coventry City Council and the Employ Autism programme was definitely worthwhile. Before I started the placement I felt as though I might come across as different at work because of my autism but my experience really put those worries at ease and helped me to prove to myself how well I could do in a working environment.

Myself and my colleague who was also on the programme both felt as though we were able to contribute quite significantly because of the different ways in which we thought due to our autism, which actually felt quite empowering.

The placement itself was really good and very involved, I learned a lot and felt I was given a good chance to make an impact. We were never treated differently to anyone else and we were really made to feel a part of the team throughout.

Shaune Petros-Barboutis, Coventry University student
Coventry University has teamed up with companies including Coventry City Council, Serco, HPL Proto and Open Theatre to offer placements in areas such as data analysis, sustainability, software programming and more to autistic students and graduates, who are paid for their internship work. The university has secured placements for 13 students so far, and plans to offer further internships in the summer of 2022.
We were really pleased to be working with Coventry University on the Employ Autism programme, and we were delighted to be able to offer five placements here at the Council.

Having solid work experience can really set you apart from the competition in the jobs market and thanks to programmes like these, autistic students have a safe place to build their confidence and realise their potential. I feel as though this was a great experience and I would certainly recommend it to employers across the city.

Councillor Jim O'Boyle, Cabinet Member for Jobs, Regeneration and Climate Change
We have well developed programmes to help young people and students get an insight to working in the public sector. That's why we are really supportive of the Employ Autism scheme.

We are delighted that Shaune gained so much from his time with us. Whether people experience working for the Council as apprentices or as part of a placement programme, the overriding feedback is very positive – and we also gain so much as employers.

I'm really keen that the Council can work with the University to help the programme to grow in the coming months.

Councillor Richard Brown, Cabinet Member for Finance and Strategic Resources