Coventry University's collaboration with Aston Martin yields new degree apprentice graduates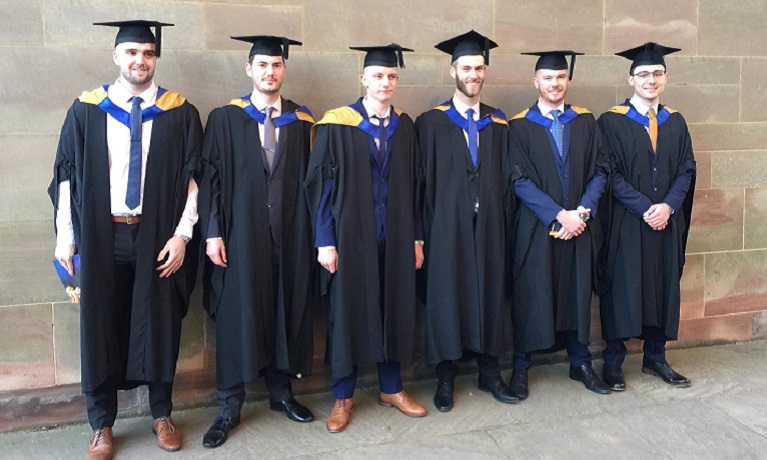 ---
Friday 04 February 2022
Press contact
---
Coventry University's collaboration with independent luxury car group Aston Martin to provide higher and tailored degree programmes to the company's staff has delivered six new degree apprenticeship graduates, with 11 more in the pipeline.
The seven Aston Martin employees who were studying with Coventry University as chartered manager degree apprentices (CMDA) have graduated with BA (Hons) Management and Leadership at Work degrees.
Jamie Cooper, James Kalas, Alex Bray, Alex Doveston, Callum Chandler, and Jack Miles have also achieved Chartered Management Institute (CMI) accreditation and full Chartered Manager status.
They joined Aston Martin as engineering apprentices in 2012 before being appointed to permanent roles supporting the company's production, quality and manufacturing engineering departments.
After their engineering apprenticeships, they enrolled with Coventry University as chartered management degree apprentices studying for the BA (Hons) Business Management and Leadership at Work degree. The course is designed to help students establish key leadership skills, from managing people and resources to strategic planning. It focuses on contemporary management issues, giving apprentices the opportunity to develop a wealth of general skills needed to help them progress from an operational level through to leadership.
The chartered management degree apprenticeship has been a fantastic opportunity for us to step away from work one day a week and apply ourselves to become better leaders within our company. We have found the degree incredibly useful and are all very excited to see where it takes us on our career paths. It came with its challenges; however, the course leaders were perfect and dealt with a group of stressed yet talented lads incredibly.

Jamie Cooper, newly qualified Chartered Manager, Aston Martin
Coventry University is currently training two more cohorts of Aston Martin apprentices.
The degree apprenticeship scheme offers industry the opportunity to upskill staff via a structured programme that can provide competitive advantage and future growth, while apprentices can gain access to expertise that helps ensure their skills stay relevant and up to date. With Coventry University, learners can gain professional as well as academic qualifications.
Congratulations to the successful graduate apprentices. They have been equipped with new skills and knowledge to make an impactful contribution to their employers and we would like to wish them all the best in their careers.

Aidan Friend, Associate Pro-Vice-Chancellor for Apprenticeships and Strategic Development, Coventry University Group
It has been a pleasure working with all of the apprentices, and I am proud of what they have all achieved given the challenging circumstances they have experienced personally and professionally. It is testament to their hard work and determination and a clear focus on the end in mind. I look forward to seeing them flourish in their chosen careers.

Kelly Milburn, Leadership Coach and Tutor with Coventry University Group
We are delighted to congratulate our colleagues on successfully completing their chartered management degree apprenticeship and gaining full CMI accreditation. Their new leadership capabilities to manage people, projects, operations and services will be of great benefit to our business.

Karen Botting, Senior Manager, Learning & Development, Aston Martin
For more information on apprenticeships and finding a vacancy, or to learn more about benefits for apprentices, visit Coventry University's apprenticeships website.