Coventry University to host prestigious TEDx event on the theme of Creating Better Futures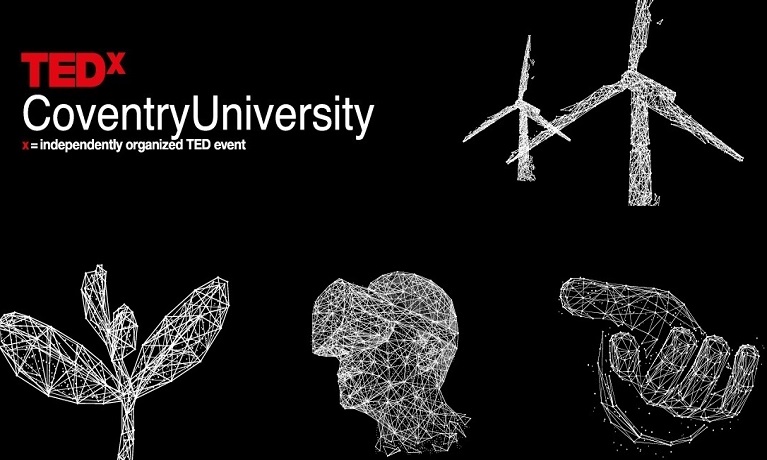 ---
Thursday 19 May 2022
Press contact
---
Inspirational speakers will take to the stage at Coventry University's TEDx event this week to share their insight on a range of important topics from autonomous vehicles to mental wellbeing in children.
The independently organised event takes place under a licence granted by TEDx, on the theme of 'Creating Better Futures' to examine how personal growth can create a positive impact in business and society at Square One within TheHub at Coventry University.
Among the speakers, who all come from across the Coventry University community, is mechanical engineer Patricia Ashman, with her talk entitled 'Are you off your Trolley? Ethical Considerations around the Behaviour of Autonomous Vehicles in Society'.
Computer scientist Dr Will Blewitt will explore how technologies developed for leisure have been picked up and repurposed for real-world applications while Professor Kiran Patel, - Chief Medical Officer and Consultant Cardiologist at University Hospitals Coventry and Warwickshire, and Coventry University Honorary Professor, will speak on healthcare with his talk entitled 'The future of Health and Healthcare: Safe and Sustainable?'
Dr Natasha Taylor will examine Healthcare Simulation, an area in which Coventry University is pushing the use of ground-breaking technology.
It's fair to say we are an important player in this area through our 5G VR system and our advanced Artificial Intelligence patients. My talk will focus on the history of healthcare simulation, how it really is a matter of life and death, and the important work we have undertaken in this field. Hosting a prestigious TEDx event is fantastic for Coventry University, it gives us the chance to showcase our research and the work we do.

I'd hope those coming along will be entertained, informed, and they might even be able to raise a few smiles about some serious subjects.

Dr Natasha Taylor
Academic midwife Dr Sally Pezaro will speak about the important part midwives must play in healthcare leadership and decision-making roles and Lucy Pearce, business owner and Mental Wellbeing Advocate, will deliver a talk on building mental resilience and fortitude in children.
In the area of business, Chloe Hollingsworth, CEO of Bottle Blonde Studio, will speak about how to turn a dream into reality, while Sukanlaya Sawang, Professor of Entrepreneurship at Coventry University's Faculty of Business and Law, will examine how we can create a nurturing environment for entrepreneurs.
The event will be hosted by Paul Fairburn, Coventry University's Innovation Director.
TED, which began in 1984, is a non-profit organisation devoted to spreading ideas, usually in the form of short, powerful talks.
The TEDx programme helps communities, organisations and individuals produce TED-style events at a local level.
Coventry University's TEDx event will take place on Friday 20th May from 10am - 3pm. The event is free and open to members of the university community, but space is limited so please book your ticket.
---
NOTES TO EDITOR
About TEDx, x = independently organized event
In the spirit of ideas worth spreading, TEDx is a program of local, self-organized events that bring people together to share a TED-like experience. At a TEDx event, TED Talks video and live speakers combine to spark deep discussion and connection. These local, self-organized events are branded TEDx, where x = independently organized TED event. The TED Conference provides general guidance for the TEDx program, but individual TEDx events are self-organized. (Subject to certain rules and regulations.)
About TED
TED is a nonprofit organization devoted to Ideas Worth Spreading, often in the form of short talks delivered by leading thinkers and doers. Many of these talks are given at TED conferences, intimate TED Salons and thousands of independently organized TEDx events around the world. Videos of these talks are made available, free, on TED.com and other platforms. Audio versions of TED Talks are published to TED Talks Daily, available on all podcast platforms.