Coventry University plays key role in world-first Urban-Air Port project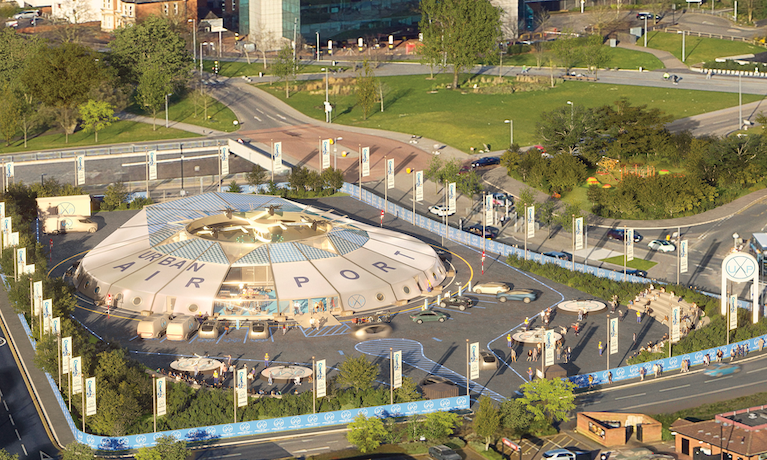 University news / Research news
---
Friday 25 February 2022
Press contact
---
Coventry University is playing a key role in the development of the world's first Urban-Air Port known as Air One – a project looking to bring electric flying taxis and delivery drones to Coventry and other locations throughout the UK and the world.
British start-up Urban-Air Port Ltd has begun construction of Air One, its ground-breaking airport infrastructure for advanced air mobility, which is set to be unveiled on 25th April in Coventry, during its landmark term as the UK's City of Culture.
From 28th April to 15th May, Air One will be open to the public, with tours provided by the Urban-Air Port team to show the possibilities of drone flights for emergency services in collaboration with West Midlands Police, and logistics and air taxi travel in urban environments with the exciting potential for electric, autonomous and airborne transport to be rolled out nationally and internationally. The showcase will look to highlight how the Air One infrastructure can enable vertical take-off transport to travel from flexible locations.
Coventry University's National Transport Design Centre is focusing on the customer journey and making the Air One facility accessible to all, easy to navigate and a pleasure to use. They are also using immersive Virtual Reality to allow people to experience and contribute to the design of this innovative transport system of the future.
Coventry City Council is also working with Urban-Air Port and Coventry University to drive the project forward.
Any successful future mobility project requires collaboration and innovation in equal measure, and we are delighted to be teaming up with Urban-Air Port and Coventry City Council to help facilitate this hugely exciting and innovative future transport project. The chance to utilise our expertise and research knowledge in user-centred design to help shape this forward-thinking development is one we have relished and the anticipation and excitement will now continue to grow as we watch how the site progresses and comes to life in the coming weeks.

Professor Stewart Birrell, Professor of Human Factors for Future Transport at Coventry University's National Transport Design Centre
We are absolutely thrilled to get Urban-Air Port's Air One on site – this marks a unique and transformative moment where the UK positions itself as the world's leading player in advanced air mobility. Our technology will enable Coventry and other cities around the country and the world to decarbonise by enabling safe adoption of cleaner mobility solutions. We are grateful to our collaborators including Coventry University and Coventry City Council, investors and the UK Government for adopting our vision and now making advanced air mobility a viable and sustainable reality.

Ricky Sandhu, Founder and Executive Chairman of Urban-Air Port
This is yet another way that Coventry is leading the way when it comes to transport innovation. We are right at the front of the green industrial revolution and this is a brilliant world first. We're pleased to be working with Urban-Air Port and Coventry University to showcase this breakthrough system, which in the near future could help to boost productivity in our towns and cities as well as supporting climate change efforts by taking vehicles off the roads.

Coventry City Councillor Jim O'Boyle, Cabinet member for jobs, regeneration and climate change