Coventry University honours NHS leaders making a difference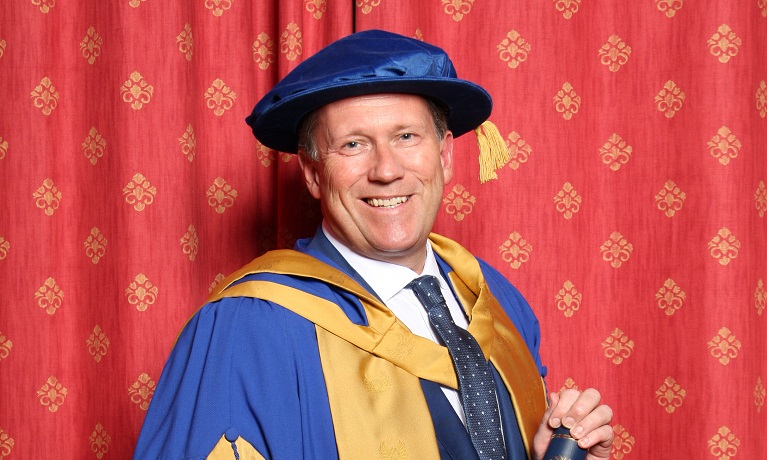 ---
Tuesday 12 April 2022
Press contact
---
The critical role played by NHS workers has been thrown into the spotlight during the pandemic and Coventry University has now honoured four local health leaders.
In recognition of their commitment, Fiona Burton, Andy Hardy, Sharon Binyon and Glen Burley have all been awarded honorary doctorates.
Sharon Binyon is the Medical Director of the Coventry and Warwickshire Partnership NHS Trust with considerable expertise in the field of adult mental health.
She is an advisor to the Trust Board and a passionate advocate of using innovation to transform clinical services to meet current NHS challenges.
Sharon has been made an Honorary Doctor of Science.
The last two years have been a challenging time for the NHS and its Mental Health services. We are seeing an increase in the need of our population for support. The work that my colleagues and I undertake both within CWPT and its partner agencies in developing the services will give us a strong basis from which to help our collective recovery.
Fiona Burton, who has been awarded the same honour, has served as Director of Nursing at the South Warwickshire NHS Foundation Trust (SWFT) since 2017, having previously worked as Deputy Director of Nursing and Head of Acute Nursing.
She sits on the board of the SWFT Charity, which strives to enhance patient care and treatment and she has developed best practice literature for the treatment of surgical and trauma wounds.
Her leadership of the nursing staff has been recognised in the Care Quality Commission's most recent report on the Trust, in which it is rated as outstanding.
Glen Burley, Chief Executive of SWFT, the George Eliot Hospital NHS Trust and the Wye Valley NHS Trust, has been awarded an Honorary Doctorate in Business Administration.
He regularly appears on the annual top 50 NHS Chief Executives list and under his leadership SWFT has been rated as 'outstanding' by the Care Quality Commission.
I am honoured to receive this recognition from Coventry University. Working in the NHS has been extremely rewarding and I have the privilege of working with and learning from so many amazing colleagues and partners. I am very passionate about improving healthcare and enhancing NHS provision so receiving this Degree of Doctor of Business Administration is extremely humbling.
Also on the business front Professor Andy Hardy, Chief Executive Officer of University Hospitals Coventry and Warwickshire (UHCW) NHS Trust, has been presented with an Honorary Doctorate in Business Administration.
In the six years before being appointed to the role in 2010, he was the Trust's Chief Finance Officer, as well as its Deputy Chief Executive Officer from 2008 to 2010.
His leadership has proved important in helping to progress a number of large projects with UHCW, including launching the Centre for Care Excellence in collaboration with Coventry University to further enhance patient care and academic excellence through research, practice development, education and innovation.
It is a great honour to receive this Honorary Doctorate from Coventry University. Our relationship grew stronger throughout the COVID-19 pandemic, with their unwavering support for the Trust at its time of most need.

Our collaboration continuously develops and grows as we look to undertake research to enable us to continuously improve our services and how we strive to deliver the best teaching and training for healthcare professionals of the future
Rugby's first Pakistani Mayor Dr James Shera, who was presented with an MBE in 2007 for services to the NHS and Communities in the Midlands, also received an Honorary Doctorate of Education. He has held a number of non-executive directorships at NHS Trusts in the West Midlands over the years and played a key role in developing the Myton Hospice facility at St Cross Hospital and the new Warwickshire College building.