Coventry University helps bring English to life with assistance from Shakespeare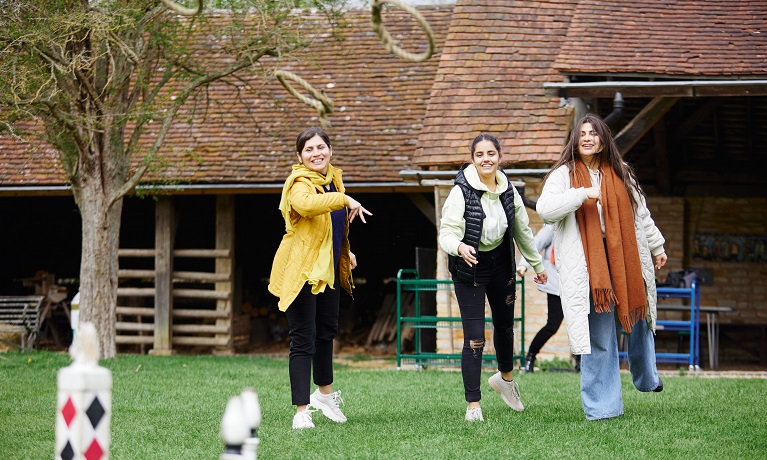 ---
Thursday 08 September 2022
Press contact
---
A unique project designed to connect refugees and migrants to the world's most celebrated playwright is helping to enhance a sense of belonging among English language learners.
The project, entitled: 'Belonging in Coventry – A Shakespearean ESOL Journey for Refugees and Migrants', saw Coventry University team up with the Coventry Refugee and Migrant Centre and the Shakespeare Birthplace Trust (SBT).
It has been funded as part of the City of Culture celebrations and has seen English for Speakers of Other Languages (ESOL) learners from the Coventry Refugee and Migrant Centre visit SBT's historic Shakespeare properties.
During their visits the students took part in different activities including gardening, painting and traditional crafts, creating a presentation about their experiences.
An additional element of the project saw ESOL learners visit Coventry University to experience the facilities available, taking part in a virtual reality language learning workshop.
As part of Coventry University's work with Coventry Refugee and Migrant Centre, trainee Teaching English as a Foreign Language (TEFL) teachers provide free English lessons to its ESOL learners.
Learning English through ESOL is a very immersive experience, it's more about getting out there and communicating with English speakers than extensive work in the classroom.

Shakespeare is an international cultural icon, someone people all over the world are familiar with, he's an important figure in the evolution of our language and it was great to connect refugees and migrants to a figure like this who comes from near Coventry.

Providing experiences like this also helps refugees and migrants feel more connected to the area.
The Shakespeare Birthplace Trust has been proud to work in collaboration on this special project. We were delighted to give the students the opportunity to explore the Shakespeare Family Homes in Stratford-upon-Avon and take part in a range of practical activities inspired by Shakespeare's life, works and times.

Our bespoke workshops enabled the students to access heritage sites and develop their English language skills outside the classroom, helping them to form their own connections to one of the world's greatest cultural icons.
Our project with SBT and Coventry University, funded by the City of Culture, has helped refugees and migrants access local heritage sites, which otherwise may have been out of reach, due to costs, transport and language barriers that many face.

Participating in an organised group helps them to familiarise themselves with different spaces, they get to know other people, make friends and the workshops create a common language, where participants can be fully engaged and immersed no matter what their language levels might be.
Visit Coventry University's TEFL course page for more information.