Coventry University and The Future Industry Platform aiming to support digitalisation of Polish industry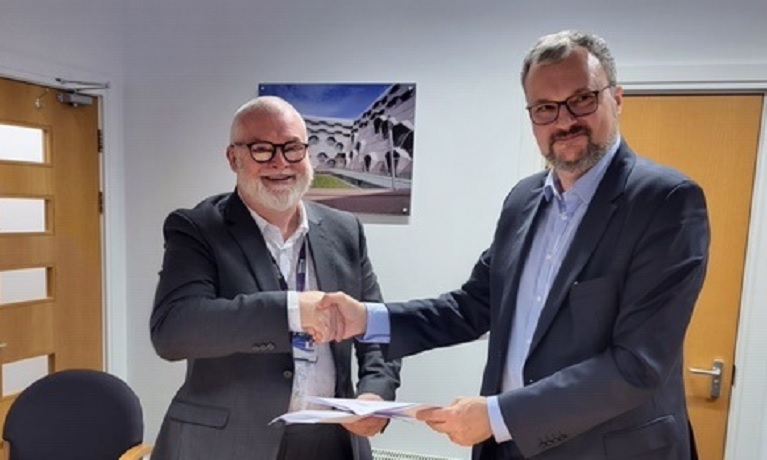 ---
Monday 05 December 2022
Press contact
---
Coventry University Wrocław and a leading Polish governmental foundation are planning to help accelerate the digital transformation of industry in the country.
The university and The Future Industry Platform (FIP), a not-for-profit Polish governmental foundation, have signed a Memorandum of Understanding (MOU) to work together to support the growth of Industry 4.0 in Poland - the digital transformation of businesses and public environment.
Areas of potential collaboration include educational and up-skilling endeavours in the field of cybersecurity, digital skills and leadership; knowledge transfer to build Industry 4.0 roadmaps for Small and Medium Enterprises and public sector; and joint initiatives and events to foster Poland's digital maturity.
Coventry University Provost Ian Dunn and Piotr Bober, President of FIP, signed the MOU in Coventry during a visit by the latter on 29th November.
Coventry has a long history of supporting government acceleration initiatives that lead to a better, cleaner and safer world. After opening our campus in Wrocław, Poland, in 2020, making us the first UK university to open a campus in Poland, we feel deeply connected to the country and region and therefore happy to share our experience and contribute to digital transformation.

Professor Ian Dunn
Cooperation with Coventry University is another big step in the right direction - collaborative approach lies at the heart of Industry 4.0 revolution. Building a network of collaborations allows us to use the best global models to verify our existing practices and to come up with new solutions. At the same time, it is a good opportunity to promote methodologies developed and tested in Poland outside of our country.

Piotr Bober
During the visit, the delegation from FIP learnt about the collaboration between Coventry University and Unipart Manufacturing, which had led to the establishment of the Institute for Advanced Manufacturing and Engineering (AME). The tour was an important highlight of the visit.
The AME is known for being the UK's first Faculty on the Factory Floor that brings together the best in academia, industry and research and development in a 'live' manufacturing environment. It is committed to providing UK industry with the skills, technologies and competitive advantage required to trade globally, creating jobs across the supply chain and generating real economic value to the UK.
The delegation also took part in an interactive workshop on Digital Capabilities Pathways, part of The Institute of Coding, and attended a seminar at the Electric Revolution Skills Hub.
Learn more about the Future Industry Platform and Coventry University Wrocław.