Coventry University and Singapore Civil Defence Force working together to help save lives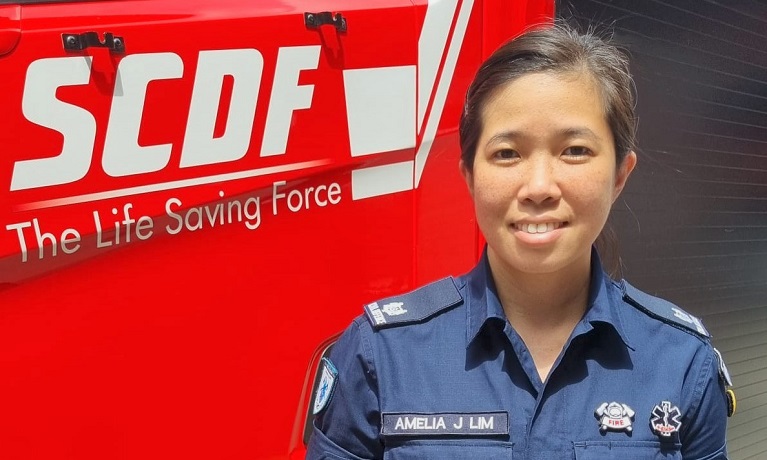 ---
Thursday 20 January 2022
Press contact
---
A forward-thinking collaboration designed to enhance emergency planning and help save lives has seen a fire station commander in Singapore begin a scholarship with Coventry University.
In 2020 Coventry University and the Singapore Civil Defence Force (SCDF) signed a Memorandum of Understanding (MOU) to work together on academic and research activities focused on enhancing and building capability and knowledge in disaster and emergency management. 
It also covers paramedic science, sport science and automotive design.
MAJ Amelia J Lim, Commander at the Jurong Island Fire Station, has now enrolled in a Master's degree in Emergency Management and Resilience (online) with Coventry University.
I feel honoured with the opportunity to learn in depth about emergency management at Coventry University. I particularly appreciate the various case studies and analysis into the management of major incidents, which will enhance my knowledge and perspective.

Learning emergency management in this academic way is certainly enlightening and will further enrich a practitioner like me.

MAJ Amelia J Lim
The same course will be taken by LTC Daniel Ng, Senior Assistant Director (Plans and Policy) at SCDF's Training and Professional Development Department (TPDD) this month. 
The SCDF, a professional life saving force, provides firefighting, rescue and emergency medical services, mitigates hazardous materials incidents, as well as creates and enforces regulations on fire safety and civil defence shelter matters in Singapore. 
Our memorandum of understanding with SCDF demonstrates Coventry University's growing reputation as a truly global organisation. The expertise we are able to provide will help to save lives.

The MOU is an example of the friendships and professional relationships we are developing across the globe and the training we can offer to the SCDF will help them meet the challenges they face in the course of their vital work. These collaborations also ensure our research and teaching is informed by real world practitioners facing emerging challenges and using the latest technology.

Coventry University Group Vice-Chancellor, Professor John Latham CBE
Emergency response demands are arduous and immediate, ever-evolving, and multi-faceted. Professional upgrading will enable one to remain relevant and better prepared to anticipate and respond to challenges.

By the same token, practitioners' experience can be invaluable in shaping knowledge and research. Collaborations are key to unlocking such opportunities and I am excited that both SCDF and Coventry University are making a leap on that front.

COMR Eric Yap, Commissioner SCDF
Coventry University's education prowess in the Health and Life Sciences and Disaster Management sectors and the relationship nurtured by Coventry University Enterprises in previous work with the SCDF has led to this further collaboration between the two organisations.