Coventry researcher to curate Uganda's inaugural National Pavilion at the Venice Biennale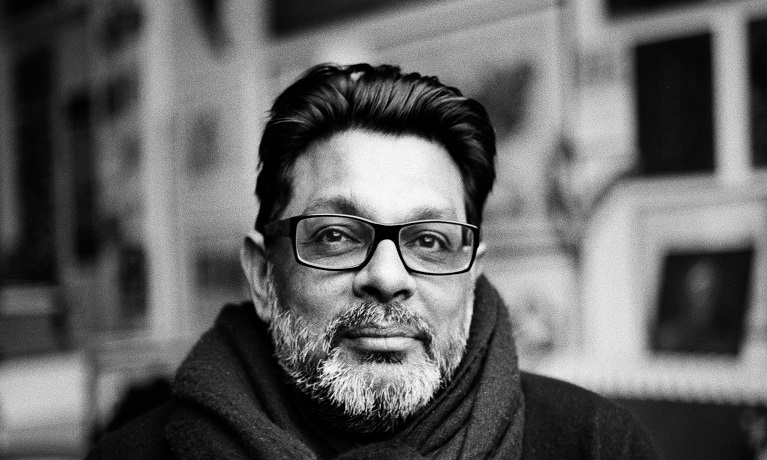 Student news / Research news
---
Wednesday 06 April 2022
Press contact
---
Art from Uganda will be showcased at the country's very first National Pavilion at the prestigious Venice Biennale, in an exhibition curated by renowned artist and Coventry University postgraduate researcher Shaheen Merali.
Merali, who is also a prominent curator and art critic, was born in Tanzania and is based in London.
He is currently examining contemporary political black arts practices and curating that emerged in the Asian-African diaspora culture in the early 1980s as part of his PhD with Coventry University
The Uganda National Pavilion will exhibit work by Kampala-based artists Acaye Kerunen and Collin Sekajugo, presenting a post-independence perspective of Uganda.
Kerunen has collaborated with Ugandan craftswomen in her work, making use of deconstructed utilitarian materials and artisan crafts to reclaim stories and create further meanings. Sekajugo's paintings and assemblages manipulate stock images to reveal inherent biases of western entitlement and privilege, modelled on the European centric archive.
Becoming an established artist in the 1980s, Merali's work has long explored social, political and personal narratives and he has contributed to and curated major exhibitions including the first participation by political black British artists at the 3rd Havana Biennale (1989) and acting as co-curator at the 6th Gwangju Biennale, South Korea (2006) and co-curator at the 4th Mediations Biennale Poznan, Poland (2014).
It is an honour to be curating the first Uganda Pavilion at the Venice Biennale. This exhibition paves the way in the future for the pavilion to be undertaken independently by people living in Uganda and solely by Ugandan institutions.
Two new artworks by Kerunen to be included in Venice are being exhibited in the public domain in Kampala beforehand to give people an idea about what is going to be displayed in Venice.
Public engagement provides a cohesiveness in relocating an aspect of Uganda and transporting it to Venice, it is a way to create a collective ambition for Uganda as a country to be embedded more in dialogues outside of Africa in the future.

Working on a PhD is very different to producing exhibitions or writing but I think it is a very important journey for me at this point in my career. I have been an artist-curator for over three decades and I just wanted to summarise beyond the usual form of organising a large exhibition.

Curating in Venice is something that is on most curators' bucket list, and I am very glad that I am getting the chance to do it. Researching for this PhD is already allowing me to deliver another genesis of British history, one that is part of a global history and part of local communities, allowing all the trajectories for a new generation and audience. I remain grateful to Coventry University and the M4C award in presenting this opportunity.
The Uganda National Pavilion can be viewed at the Palazzo Palumbo Fossati, 59th La Biennale di Venezia, Italy from 23rd April to 27th November 2022.
Find out more about the Centre for Arts, Memory and Communities.