Pandemic redundancy prompted Coventry University student midwife to pursue her dream career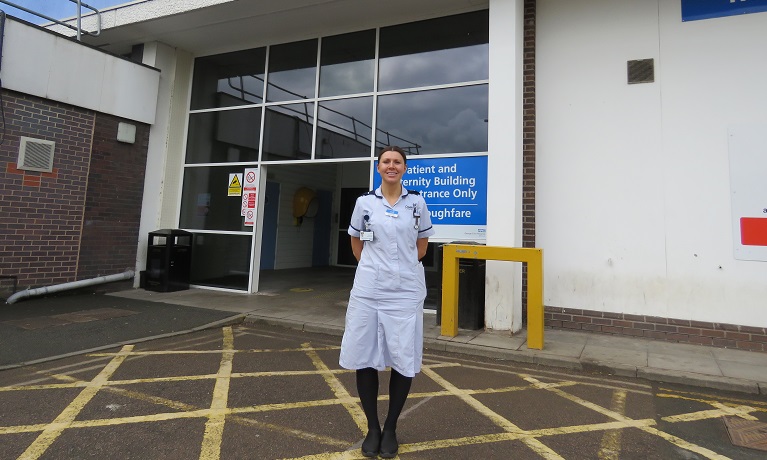 ---
Wednesday 03 August 2022
Press contact
---
In March 2020 Samantha Hayes flew back from New York exhausted but proud to be jet-setting across the globe in a cabin crew role she thought was her dream job.
Unbeknown to her it would be the last time she touched down at Gatwick Airport as an airline employee as the COVID-19 pandemic saw the UK government advise against non-essential international travel at the start of the first lockdown.
As Samantha's furlough evolved into redundancy, she thought her world had fallen apart but with time to spare she rediscovered the midwifery books she'd ordered as a 17-year-old.
She bought them after being inspired by the TV show One Born Every Minute but her thirst for travel saw her pursue a different path.
More than 10 years later the pandemic prompted Samantha, from Sutton Coldfield, to pursue her calling and now she is about to complete the first-year of her Midwifery BSc (Hons) course at Coventry University.
I'd gone from having this amazing job and flying around the world to turning 30 and living in the bedroom that I was in when I was 16 years old.

I went to go and give blood and my dad said, 'why don't you become a nurse?'.

I'd never thought about nursing but when I was 17 my first ever Amazon order was some midwifery books, I'd watched One Born Every Minute and thought that the midwives were amazing.

I felt too young to pursue it back then but it felt like I had been given another chance, so I thought I'd try an access course and see how it goes.

Now I'm a student midwife at Coventry University and on placement at George Eliot Hospital NHS Trust. I love the job, learning and helping people.

Coventry University first-year midwifery student Samantha Hayes
Part of Samantha's cabin crew role involved training to help someone give birth on a plane and she says the people skills she developed in the air are now aiding her midwifery journey.
When people are in need on a plane, they look to cabin crew, so you need to have good people skills. When you are in a room giving birth at 3am you look at midwives, so you need to be able to calm people.

It is an amazing thing to be part of, it is a privilege to be in the room and be able to help when someone gives birth.

My advice to anyone who has been in a similar position is that when it is all gone there is no better time to flip this sad thing into something life changing.

It has already changed your life, so go and make it better.

I pushed myself, worked a full-time job in retail and studied the access course full-time to get the opportunity to become a student midwife. Now I'm on the path to my dream job, I've been able to buy a house with my boyfriend and we have a golden retriever called Wilson.

Without the pandemic I wouldn't be in this amazing position.

Coventry University first-year midwifery student Samantha Hayes
Start your midwifery career at Coventry University.