Awards success for Coventry University film graduates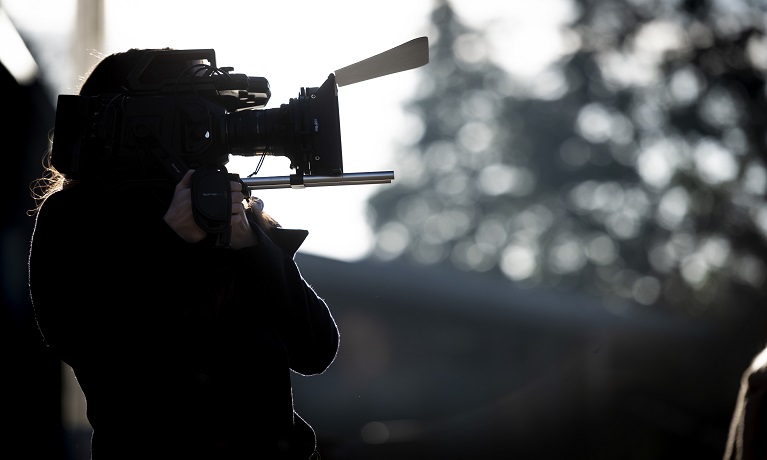 University news / Student news
---
Wednesday 20 April 2022
Press contact
---
Graduate film makers from Coventry University have won the acclaim of industry experts after picking up prestigious accolades at the Royal Television Society Midlands Student Awards.
The awards, which were presented during a ceremony on 31st March, recognise skills in areas such as editing, writing, sound, camerawork and production design.
Adrian Bajireanu, 23, from Portugal, took home the Best Editing Award for his music video entitled 'Because of Covid' which carries a positive message about the importance of friends and family in overcoming feelings of isolation and lack of motivation during the pandemic.
Fellow graduates Edmundo Inacio and Artur Monteiro, also from Portugal, won the Best Production Design Award for their film 'Filha da Terra' (The Daughter of the Countryside).
It tells the story of Edmundo's grandmother as she takes the difficult decision to move from her countryside community to the city.
Several others narrowly missed out on awards, including Daniel Robinson, Roshni Patel and Harry Swaine, nominated for Best Drama and Best Writing, and Emily Williams who was nominated in the Sound category.
All were media production graduates from last year.
It was a really fun film to make, we were doing this during the pandemic and because of everything that was happening at the time, a couple of my other projects fell through.

I was not expecting to win, it was such a shock, but with video editing being my favourite part of videography, it was a great honour and felt like my hard work paid off.

I had a great experience in Coventry, the lecturers were very supportive and having access to all the resources from the media loan shop meant I could make professional standard films.

Adrian Bajireanu
This was a very personal film for me, it's about my grandmother so it was something really special to make. I saw how much my grandfather loves my grandmother and how difficult it is to move away from the countryside, where you've grown up and have all these memories. I think the experience of learning about that made me feel more human.

It was a surprise to win the award, I was so happy particularly as Covid had caused problems with the initial project.

Edmundo Inacio
This documentary focused on a forgotten and poetic side of Portugal. There are many stories like this in our country and across the world, but most are never heard, it was something really interesting to explore.

Artur Monteiro
The Media Production team and I are massively impressed with the graduates for getting nominated as well as winning awards.

Media Production is a multi-disciplinary course meaning that they do lots of different types of media across the three years.

This makes these wins particularly impressive when they are up against such stiff competition in the region and producing such high-quality work despite the difficulties of Covid.

Dan Hopkins, Course Director for Media Production at Coventry University's School of Media and Performing Arts
The Royal Television Society is an educational charity which encourages and celebrates work in television.
You can watch Adrian's film on Youtube.