Coventry University offers artist in residence opportunities in huge redevelopment project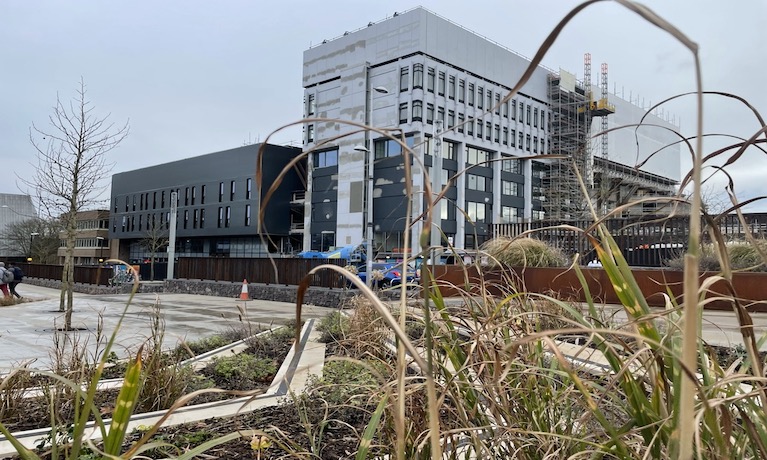 ---
Thursday 10 February 2022
Press contact
---
Coventry University is offering paid artist in residence opportunities, providing talented artists with the chance to contribute to its major Arts and Humanities estates redevelopment in the city centre.
The university is seeking to bring in artists specialising in a wide variety of vibrant disciplines to produce bespoke artwork in response to the major development and the cultural history of the faculty.
Thanks to the generosity of McLaughlin and Harvey, the contractors leading on the building redevelopment which is set to be unveiled later this year, the university will be able to offer two residencies worth £5,000 and two worth £2,000 to established artists.
A further £1,000 will be used to support a current final-year Coventry University student or recent graduate to take on an artist in residence opportunity, representing a significant paid opportunity for them to showcase their work and put their studies and talents to the test.
The successful applicants will have the chance to produce and manage creative work in their chosen field, with opportunities to contribute to the university's showpiece new build with visual, digital, sound and participatory arts.
We're delighted to be able to present these fantastic opportunities to a wide range of artists thanks to the wonderful generosity of McLaughlin and Harvey. We see this as a pivotal opportunity to add another personal and unique touch to our new arts and humanities complex, which we have every confidence our students, staff and the people of Coventry will appreciate and enjoy.

This redevelopment has the potential to enhance the quality of our whole faculty and the truly excellent student experience we offer now and in the future.

Nick Gorse, Head of School for Art and Design at Coventry University
The artist in residence positions will open up the potential for artists to put their own stamp on what has been described as a once-in-a-generation development that will aim to drive Coventry University's Faculty of Arts and Humanities on towards a bright future.
The new complex will become home to a range of cutting edge technologies, studios, facilities and environments, and will also be open to the public with a gallery space, café and events atrium where students, staff and visiting artists can display their work to members of the community. This represents a great opportunity for the artists in residence to showcase their work to the city of Coventry.
We're delighted with the progress we've made on the vibrant new arts development at Coventry University. We're now looking forward with real excitement to seeing how this artist-in-residence call can take awareness of the project to another level, and we're really pleased to be able to support the wider arts community as well as the university with a unique project like this.

David Wellwood, Senior Project Manager at McLaughlin and Harvey
Applications must be made to the Faculty of Arts and Humanities via Rebekah Manser at ad3228@coventry.ac.uk with the subject 'FAH AiR 2022'. The deadline for applications is: 1st March 2022.