Academics get creative to answer the big questions on COVID-19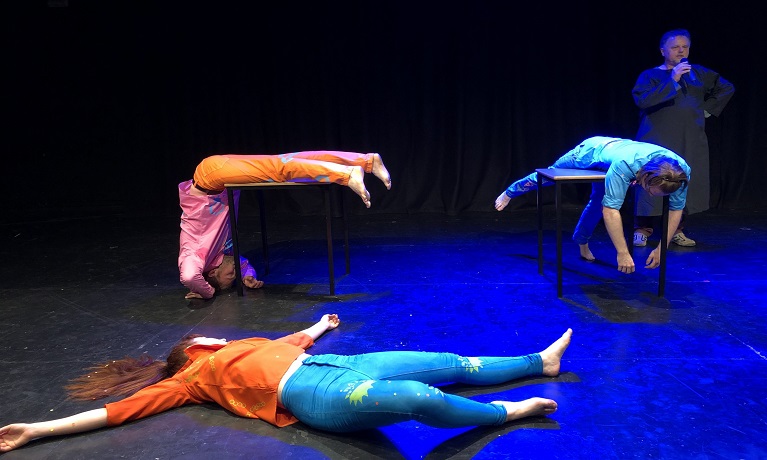 ---
Wednesday 13 April 2022
Press contact
---
University experts and physical theatre performers are coming together to combine a lecture with artistic dance to help explain the facts of COVID-19.
The unique performance featuring experts at Coventry University aims to tackle the flood of misinformation that has spread about the virus during the pandemic. 
The show, created by Highly Sprung Performance and also involving the University of Warwick, is called Transmission: The Next Variant and sets out to deliver enlightening information on the evolution of COVID-19, the vaccine and its impact.
It is taking a creative approach to science communication, connecting with the audience's imagination and making this information accessible. 
In 2019 experts from Coventry University and the University of Warwick previously worked with Highly Sprung on a performance exploring the threat posed by antimicrobial resistance to our health. 
Dr Phillip Gould, an expert in respiratory viruses at Coventry University's School of Life Sciences, is involved in the production. 
Transmission (Part III) is an interactive event providing an insight into the global pandemic. Blending an academic lecture with artistic dance, audiences will be transported to a visually inspiring viral world.

It sounds an unusual mix but seeing is believing.

Dr Phillip Gould for Coventry University's School of Life Sciences
In my opinion, the medium of physical theatre and dance makes the science of COVID-19 so much easier to digest for audiences, with a new creative approach.  

It's the power of visual metaphor that makes the science content in Transmission so accessible. We have absorbed so much changeable information across the last two years and it's easy to become tired and confused, but we hope Transmission will be an important step forward, bringing some clarity as we all adjust to life alongside COVID-19.

Sarah Worth, Executive Director of Highly Sprung Performance
The performance forms part of the Resonate Festival at the University of Warwick campus and will take place at 5.30pm on Tuesday 19th April in Studio Theatre 2 at the Faculty of Arts Building. 
Tickets are available at the Highly Sprung Performance website.