Producing future scientists more important than ever before, Coventry University academic says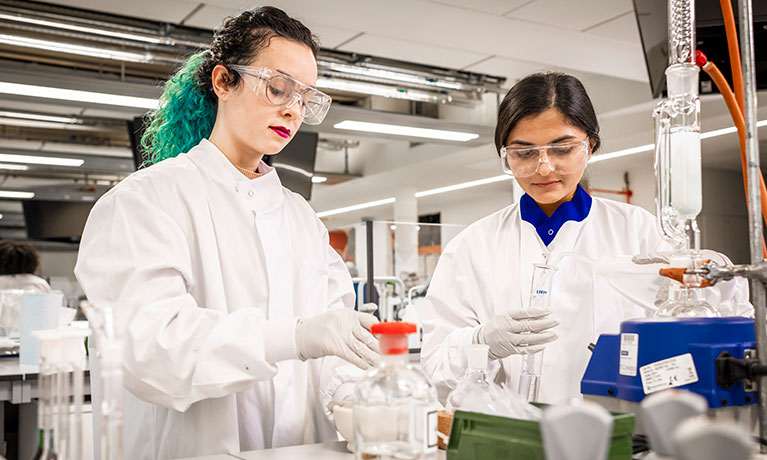 ---
Thursday 11 February 2021
Press contact
---
Coventry University's Dr Lauren Acton says the Covid-19 pandemic has made inspiring girls and young women to pursue careers within science and research more important than ever.
Ahead of International Day of Women and Girls in Science, she's hoping her success story and the course she's delivering will encourage more young women and girls to pursue careers in the field.
Interest in science will have been boosted by the pandemic, which has pushed scientists and researchers into the media spotlight as the world has pinned its hopes on the rapid creation of vaccines.
As course director for the BSc in Biomedical Science at the university, Lauren has worked collaboratively with her colleagues to deliver education of the highest quality despite the restrictions and limitations brought about by Covid-19, consistently placing student feedback and insights at the heart of the delivery and development of the course.
Throughout the pandemic we've been adapting continually in so many ways and we've managed to do it as smoothly as possible thanks to the collaborations between students and staff. We've always tried to be honest with ourselves and take on board student feedback so that we could use it to improve our ways of working and maximise the quality of the courses we've delivered.

I'm really proud of how the students have responded and coped and I hope more than ever before that many of them go onto careers in the field, as this pandemic has truly shown the importance of science and research.

Dr Lauren Acton, Course Director for Biomedical Science BSc
At the beginning of her journey within science, Lauren studied an undergraduate degree in Applied and Human Biology, balancing her studies with a job at McDonalds, before furthering her studies with a PhD.
Coventry University then identified Lauren's potential, drafting her into a graduate teaching role. From there, Lauren has made further progress in the field and is now working to shape the careers of potential future biomedical scientists.
Lauren's work to maximise the quality of the education her students have been receiving and experiencing through the pandemic has been lauded by a number of her colleagues.
Lauren's work and efforts through the pandemic have been truly inspirational. The way she's developed the biomedical science undergraduate course in these circumstances has been phenomenal and it's been rewarding to witness the enjoyment and engagement of students in their studies as a result.

Jess Rollason, Associate Head of School at Coventry University