University collaborates on major heritage exhibition at Coventry's new Metropolis venue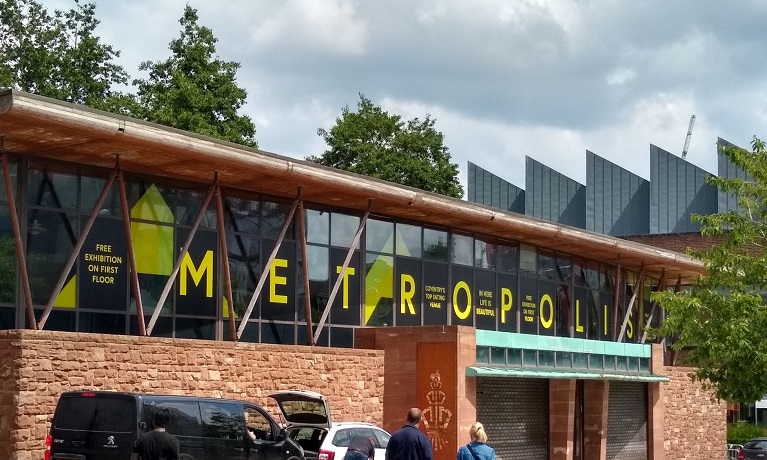 ---
Monday 12 July 2021
Press contact
---
A new flagship exhibition showcasing Coventry's impressive heritage and architectural history launches to the public on Saturday 10 July as part of the grand opening of new Coventry restaurant Metropolis.
The exhibition – Metropolis: Coventry's medieval and modernist ambitions – is the result of a collaborative partnership including Coventry University, Historic Coventry Trust, Medieval Coventry and Coventry City of Culture Trust.
It explores the city's distinct contribution to the history of the built environment in Britain; from major religious buildings containing some of the finest decorative art in the country, to structures born from the industrial revolution and post-war recovery. It also showcases Coventry as a City of Culture through its long history of pageantry, drama and artistry, stretching back hundreds of years.
Curated by heritage experts Dipl.- Ing. Arch Sabine Coady Schäbitz (Associate Professor in Architecture at Coventry University) and Dr Mark Webb (Chair of Medieval Coventry), the exhibition includes a vast range of archival and contemporary photography and illustration across five themes – movement, enterprise, culture, resilience and the future. It also features a replica St George and the Dragon statuette from the Herbert Art Gallery and Museum, alongside a replica stained glass panel from the medieval cathedral.
It has been funded by the Great Places Scheme, supported by Arts Council England and National Lottery Heritage Fund.
The exhibition can be visited, free of charge, on the first floor of the new Metropolis Gallery on the site of the former Drapers Bar on Earl Street, just a stone's throw away from the City of Culture Assembly Festival Garden at the heart of our Coventry campus. As well as establishing an exciting new city centre venue for food and drink, the restaurant will transform lives by providing hospitality training to young people not in employment, education or training and giving them a chance to flourish in the industry.
This exhibition shows visitors what an exciting, dynamic and vibrant city Coventry is and always has been; it is a city that has never shied from innovation and has always embraced new ways of thinking and living. It demonstrates that Coventry has a significant place in the story of Britain's urban development, and I'm thrilled that our exhibition will help people to experience this during Coventry's UK City of Culture Year, and at a new venue that will benefit local people and the local economy.
The pioneering modernist heritage of Coventry is worth examining more closely – its human scale, its varied materiality, its careful detailing and its beautiful art. These 20th century places and spaces, conceptualised before and implemented after the war, should be carefully incorporated into future developments to make a genuine sustainable city. I hope visitors will start seeing the post-war city in a new light!
Coventry's unique contribution to architecture and art in the medieval period deserves to be better known – a surprising amount survives, much of it of the highest quality. The exhibition highlights these rare survivors, while drawing parallels with art and architecture of later periods. Visitors are encouraged to go out into the city to explore Coventry's medieval treasures.