How a Coventry University student is supporting Coventry's independent venues one photo at a time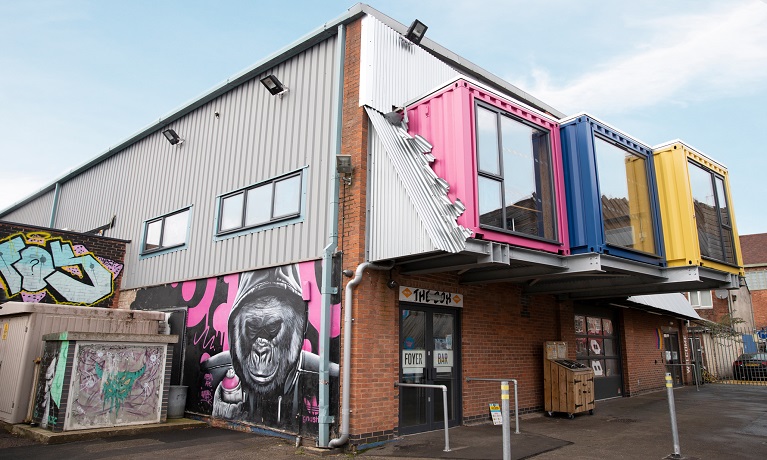 ---
Friday 15 January 2021
Press contact
---
Freelance photographer and Coventry University student Ruby Nixon has launched a photography project to celebrate live music and support independent venues in the city as they struggle through the lockdown.
Ruby, who is studying photography with the university, launched the Coventry Venues: A Year in the Live project in collaboration with 12 independent venues to raise funds for local music venues by selling a limited edition 2021 calendar consisting of her own photography of the venues. 80 per cent of profits will go to the venues included in the calendar.
The project is inspired by the city's rich history of the live music scene, including The Specials and The Selecter from the 2 Tone era. Many of the city's venues have been struggling due to lockdown restrictions, and need help from their community to survive.
Ruby's freelance photography business has been supported by Coventry University Social Enterprise (CUSE) through its Evolve programme, which offers personal development, business training and mentoring. Through Ruby Nixon Photography, she has worked with the following venues on the project: The Tin Music and Arts, Kasbah, The Box at Fargo Village, Arches Venue, Herbert Art Gallery, Ziferblat, Just Dropped In, The Big Comfy Bookshop, The Golden Cross, Rialto Plaza, Knights at 2-Tone Village, and Milk Vintage.
As a music photographer, I have experienced and witnessed many of the struggles faced by the music industry throughout the past year and felt the pain of the venues affected. I wanted to do something to help, particularly the venues in Coventry as they have supported me through my own work and held so many incredible gigs that I have had the pleasure of being at in the past. I hope this project will show future students the support you are able to get at Coventry University and how I have been encouraged to create such an amazing project that supports my local community as we celebrate being the City of Culture 2021.

Ruby Nixon, Photography BA (Hons) student and freelance photographer
Our big hope for the independent venue community in Coventry is that we can come together to support one another not just through this crisis, but as a new culture in Coventry. With City of Culture 2021 now upon us, there is so much talent to pull on and work with, and we would love to see more collaborations and shared experiences to create a really close-knit independent network across the city.

Spokesperson, The Box at Fargo Village
Limited copies of the calendar are still available to buy on Ruby Nixon Photography for £15 plus £1.99 P&P for buyers in the United Kingdom.