Coventry graduate provides impactful support for abuse victims and survivors through social enterprise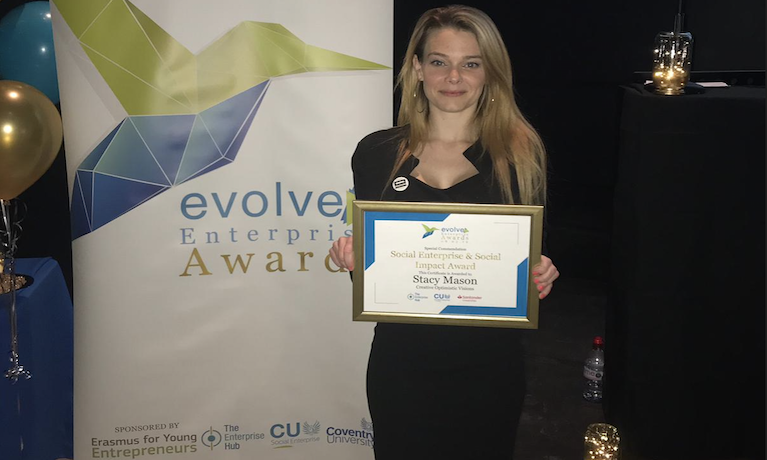 University news / Alumni news
---
Wednesday 31 March 2021
Press contact
---
A Coventry University graduate who runs a social enterprise providing support to abuse victims and survivors says her time at university gave her the platform to make a difference to people's lives.
Stacey-Jade Mason is the Founding Director of Creative Optimistic Visions (COV), which offers a range of support to people in Coventry and Warwickshire who are or have been directly impacted by abuse.
The journey began during Stacey-Jade's time at Coventry University, where she gained support with funding as well as advice from the Coventry University Social Enterprise Hub (CUSE).
Coventry University is where it all began, from being a single parent graduate, expressing a seed of an idea, and getting a little fund to support the idea which has now grown to be a flourishing social enterprise. COV holds guest lectures at the university as well as having a great relationship with CUSE who have always supported our growth and been there through our toughest times.

I am so proud of the COV family. We have stepped up and continued to deliver vital services during this pandemic including one-to-one mentoring support, alternative education and community projects. I am proud of the people we have served - their commitment to making changes in their lives and helping others is truly inspirational.

Stacey-Jade Mason, Founding Director of Creative Optimistic Visions
COV recently delivered a flagship UK Youth programme called 'EmpowHER' - a social action project challenging and supporting women and girls, some of whom have been impacted by abuse to both promote and create social change with the objective of making a positive impact on societal issues that are known to affect women and girls.
The participants decided to focus their project on confidence and self-esteem. They shared set targets to improve their own self-esteem, as well as placing a bid for and securing a support package worth £400, which included wellbeing packs for 50 women in Coventry accessing Coventry Haven, Foleshill Women's Training, Kairos WWT and CRASAC.
Stacey-Jade has also provided bespoke, one-to-one mentoring for more than 40 individuals including vulnerable adults and young people since founding Creative Optimistic Visions, helping them with their communication skills, ability to deal with stress and safety awareness.
Find out more about Stacey-Jade Mason's social enterprise.