Six books announced for Coventry's Big Read to celebrate the UK City of Culture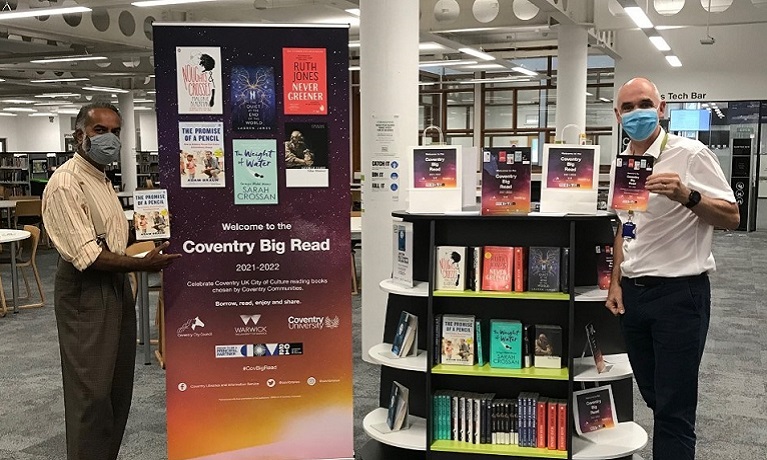 ---
Monday 26 July 2021
Press contact
---
Six books have been recommended by the local community for The Big Read, which is an initiative by Coventry University, University of Warwick and Coventry City Council libraries.
The project aims to get everyone in the city reading and discussing books. Coventry people are celebrating a love of reading throughout City of Culture 2021 with a target of reaching 'One Million Reads'.
The titles have been chosen from a wide selection of recommendations which were suggested by the people of Coventry.
Adults in Coventry can be part of Coventry Big Read by visiting Coventry University Library, Coventry Public Library Services, and University of Warwick Library where the books will be available on a first-come, first-served basis.
There were so many brilliant recommendations, it was hard to select just six but the chosen books offer something for everybody. They are:
Noughts & Crosses by Malorie Blackman
The Promise of a Pencil by Adam Braun
The Weight of Water by Sarah Crossan
Silas Marner by George Eliot
The Quiet at the End of the World by Lauren James
Never Greener by Ruth Jones
Copies of the six books will be available at the Central Library for the public to borrow, while students and staff at Coventry University and University of Warwick can borrow theirs from their respective university libraries. Copies of the books will also be gifted to some local groups supporting the community. Sets of books are available for Readers Groups to borrow.
A wide range of reading activities will be taking place across City of Culture 2021 in libraries for children, families and adults.
I'm delighted to announce the list of books recommended by the public for the Big Read. Copies of all titles are available for loan from libraries and some will be gifted to residents. We intend to arrange events around these books throughout the year and hope to include online and in-person Q&A sessions with some of the authors, so be on the lookout for these.

Philip Vaughan, Assistant Director (Learning and Research Support) Lanchester Library, Coventry University
We are excited to be a part of The Big Read. The six books chosen are a diverse selection and we very much hope that the people of Coventry will enjoy reading them! Come along to your library to borrow copies – and look out for author events and opportunities to meet with others and discuss the books.

Karen Jackson, Academic Support Manager, University of Warwick Library
I welcome this unique collaboration between libraries in the city and our two universities. It really highlights the 'One Coventry' approach with organisations working together for the benefit of Coventry people. Reading has brought comfort and an escape to so many adults and children alike during the COVID-19 pandemic and The Coventry Big Read is a great way for people to share a love of reading and celebrate UK City of Culture 2021. What a fantastic list of books to choose from which really reflects and celebrates the diversity of Coventry's people.

Cllr Dr Kindy Sandhu, Cabinet Member for Education and Skills
The participating libraries are all buying multiple copies of the books to lend and at the end of the festival they will be donated.