Coventry University degree students in Singapore win raft of awards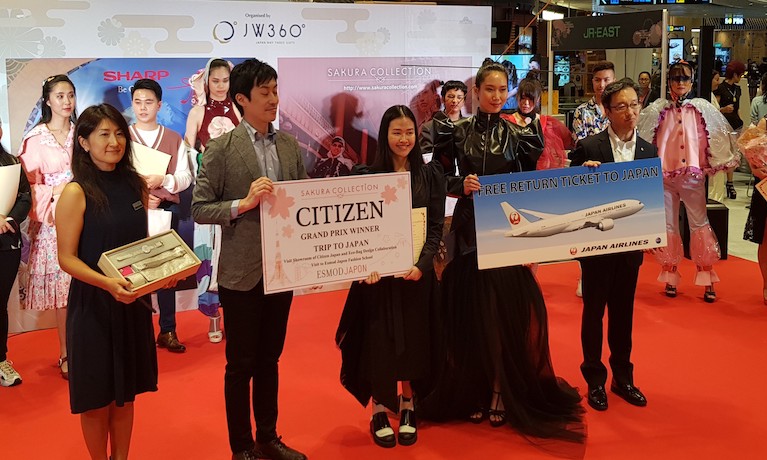 ---
Wednesday 24 February 2021
Press contact
---
Multiple students studying Coventry University degrees with transnational education partner Raffles College of Higher Education in Singapore were recognised with a raft of awards in 2020.
The achievements are an indication of how Coventry University's partnership with Singapore-based educational institution Raffles College continued to flourish through last year despite the impact of the coronavirus pandemic.
The accolades included top prizes within the Golden Lotus International Design Awards, the Singapore Interior Design Awards and the Sakura Collection Asia Student Awards 2020 among many others.
Onwaree Sukjumroen, who was Singapore's national winner of the Sakura Collection 2020 Asia fashion award, and graduated last year with a Coventry University Bachelor of Arts with honours degree in Fashion, said she was delighted to see her hard work pay off.
Winning a prestigious award is a proud achievement for me and I'm pleased to see that my hard work, application and studies have been rewarded. I will always push myself to be the best that I can be and good things will always follow.

Onwaree Sukjumroen, Raffles College student
Coventry University has worked closely with Raffles College since 2016, delivering top-up and postgraduate programmes in an autonomous franchise arrangement, enabling students to gain a UK degree overseas.
52 students studying Coventry University degree programmes at Raffles College also graduated with first class honours degrees in 2020, as the partnership continued to provide academic quality and unique, industry-based courses.
Raffles College offers a range of creativity-focused courses, complementing Coventry University's well-established Faculty of Arts and Humanities.
We are really delighted by the news of these awards, the latest in a long line of shared achievements between Raffles and Coventry University. We look forward to continuing to work closely with Raffles in creating better futures for more of our talented students.

Judith Mossman, Coventry University Pro Vice-Chancellor (Arts and Humanities)
Raffles enrolled the very first cohort of Coventry University students in January 2017, and we see strong academic achievements attained by the graduates year on year. Despite the challenges posed by the COVID-19 pandemic on teaching and learning pedagogy, we are proud that the students were still able to scale new heights, delivering industry collaborations and competing internationally. Raffles College would like to thank the faculties of Coventry University for their continual support and cross-cultural interaction in making this education partnership a fulfilling one - a successful partnership by design.

Giuseppe Spinelli, Principal of Raffles College of Higher Education
Find out more about the courses Raffles College of Higher Education has to offer in partnership with Coventry University.