Dropping out of university was never on my mind despite double amputation, says Paralympic gold medallist and Coventry graduate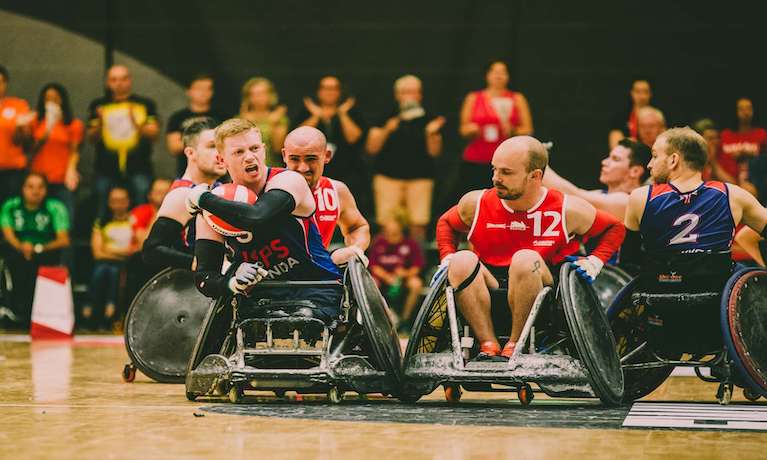 University news / Alumni news
---
Tuesday 19 October 2021
Press contact
---
Paralympic gold medallist Jim Roberts says continuing his studies at Coventry University following a life-changing double amputation was 'never a big decision' thanks to support from his family.
Fast forward to 2021 and the 33-year-old is a national hero after starring at the Tokyo Paralympic games only a matter of weeks ago.
Through a thrilling campaign on the world stage, Jim captained Team GB to wheelchair rugby gold, scoring an astounding 105 tries across Great Britain's five matches.
But now the Coventry University graduate is preparing to retire from the sport that has taken him to international stardom.
Jim's Journey
Before embarking on his Paralympic journey, Jim studied Architectural Design Technology at Coventry University, where he played both seven-a-side and fifteen-a-side rugby.
At the end of his first year of university, the Welshman returned home to work with the family business over the summer, where his life changed forever.
Jim contracted bacterial meningitis and required life support in hospital. He had to have both his legs amputated as a result and spent around two-and-a-half years in hospital, but never lost his passion for sport, nor his resilience and determination.
Jim thought his days of playing rugby were over, until he met a nurse who inspired him on his path to Paralympic gold.
I spent the best part of two-and-a-half years recovering in hospital after I got meningitis and it wasn't easy. It was a long and challenging recovery, but whilst I was in hospital one of my nurses was working with the GB team at the time and she told me I might have the right disabilities and potential to be quite successful in wheelchair rugby.

I watched London 2012 and decided there and then that getting into the GB Paralympic team for wheelchair rugby was something I wanted to pursue. Getting into that squad is something I had to work extremely hard to achieve.

Jim Roberts, Paralympic gold medallist and Coventry University graduate
After enduring a gruelling and life-changing road to recovery, Jim wanted to focus on his Paralympic dreams, but he never lost sight of the importance of his education. He decided to return to university a term earlier than scheduled to do an 'advantage module', to help ease himself back into higher education.
This was Jim's time to begin his pursuit of two dreams side by side – a career in architecture and Paralympic glory.
Jim praised the way the university made his transition back into higher education as smooth as possible, and lauded the impact that support staff had on his sporting career as 'amazing'. He says the staff at Coventry University were supportive and didn't treat him differently because of his disability. Ahead of his third year at university, he even secured a sports scholarship with Coventry, after breaking into the Team GB wheelchair rugby development squad.
I've got a great family who really gave me a 'kick' to carry on with my studies. Their support meant it was never really a big decision for me to head back to Coventry and I'm really glad I did.

The strength and conditioning support I got from the guys at Coventry University as part of my scholarship was amazing and it definitely helped me to break into that Team GB squad and to ultimately get to where I am today.

Building up enough muscle just to push myself around the court was a challenge in itself, let alone building up the strength to do it at a Paralympic Games, so the support I had with strength training in Coventry was crucial. I have fond memories of Coventry and still have friends there now.
International opportunities
As part of his development as an elite wheelchair rugby star, Jim travelled overseas to the United States to play and learn for a number of seasons, which he says was pivotal to his improvement as a player.
The coaching I received in America was brilliant and I'd say playing out there definitely helped me to improve my game more than I could have done if I'd stayed in the UK.

Getting that experience under my belt was absolutely huge for me and there's no doubting how much it helped my development as a player.
Personal life, work and next steps
Despite grabbing the headlines on the world's sporting stage earlier this year, Jim's talents go far beyond wheelchair rugby, and he's been balancing becoming an inspirational sporting hero with a successful professional career.
Since graduating from Coventry University, he has used his education and degree in Architectural Design Technology to land a top job as a Senior Chartered Architectural Technologist.
It's been an incredible journey and admittedly it's taken a lot of commitment. It's been difficult at times trying to balance everything and I've had to make some big sacrifices to commit myself to succeeding as both an Architectural Design Technologist and a Paralympian side by side.

I've been considering moving out of the sport for a while now, so to be able to bow out with a Paralympic gold feels great and is also quite a relief!