Coventry University wins award for projects to help young people in lockdown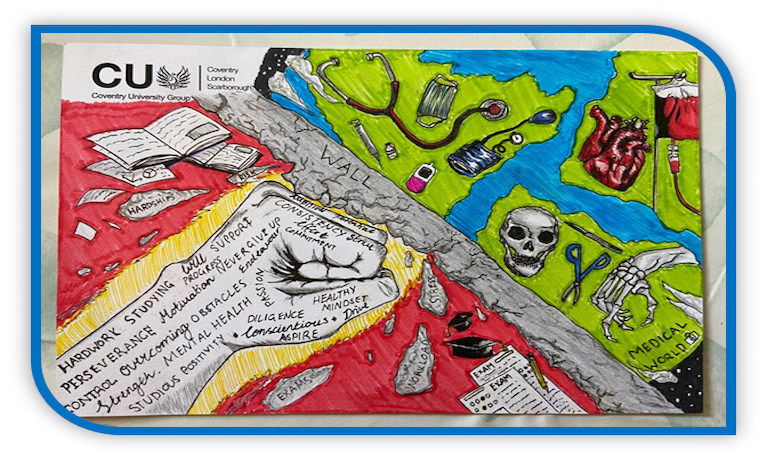 ---
Tuesday 16 March 2021
Press contact
---
Coventry University has won a national award for its outreach schemes – including a pen pal project designed to get children and young people writing about their feelings during lockdown.
Neon Envelopes and postcard art activity Draw Your Future were part of the university's Offline Summer Activities project to address digital poverty and aid the wellbeing of youngsters during the COVID-19 pandemic.
The university's Widening Participation team gained the HELOA Best Practice Student Recruitment and Outreach Award for the two initiatives, which involved students.
The free schemes were designed without the need to use modern technology and ran from July to September with 342 activity packs sent out to underprivileged children aged 11-18 across the UK who had limited or no access to technology.
The Neon Envelopes project saw university Student Ambassadors write letters, posted in green neon envelopes to encourage the pen pals to think about their future and feelings.
We wrote about university and they asked me why I chose my course but we also spoke about our lockdown experiences and the emotions we felt during that time.

I've been involved in mentoring projects before but I felt the handwritten aspect and the fact it was over the course of a few months allowed the young people to be honest and really open up.

One girl was worried about sharing her artwork but through the relationship we built she eventually felt brave enough. We shared drawings, music playlists and books. Those relationships could not have been built online or on campus.

Bethanie Downing, Coventry University student
Coventry University Outreach manager Kayleigh Lampard came up with the Neon Envelope initiative and says it was students like Bethanie who helped turn her idea into a success.
These activities provided young people with a welcome distraction from what has been a very difficult year by giving them an opportunity to think about their future in a positive and creative way, away from screens. The student's openness helped us build relationships in a way which has not been possible before.

Kayleigh Lampard, Coventry University Outreach Manager
As part of Draw Your Future, Coventry University teamed up with LemonPop Workshops, specialists in empowering education through creative arts.
LemonPop created three unique postcards that represent the Coventry University Group campuses in Coventry, London and Scarborough.
Each design encapsulated images and words associated with studying at university. The young people were given a fourth blank postcard to draw their future and the finished designs will be displayed at Coventry University in the future.
The idea was to provide young people with therapeutic mental health activities through colouring. Drawing, designing and colouring are great at reducing stress and anxiety, especially when we are living in such uncertain times.

Liam Norton, Coventry University Widening Participation Specialist