Coventry University honours leading lights in architecture and education in the Middle East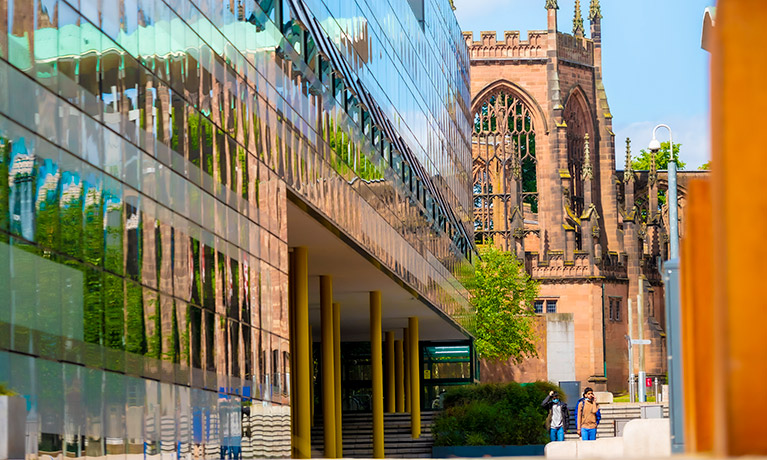 ---
Monday 22 November 2021
Press contact
---
One of the Middle East's most influential architectural figures and a pioneer for educational reform in Saudi Arabia are both being awarded Honorary Doctorates from Coventry University.
Mohamed Al Assam and Dr Salim Al Malik are receiving the Honorary Doctor of Arts in recognition of their outstanding achievements in the Middle East.
Mohamed Al Assam is the founder and Executive Chairman of architecture and engineering firm Dewan Architects and Engineers.
He is a regular keynote speaker at major architecture and construction forums in the Middle East and GCC region and a visiting guest lecturer at Baghdad University, The Lebanese University and Ajman University for Science and Technology.
Under his leadership Dewan has received a string of international awards and worked on notable projects such as The Fountain Views by Emaar in Dubai, The Grand Mosque in Nur-Sultan, The Estates in Cairo, Soloforest Ecopark Towers in Hanoi, and Port De La Mer in Dubai.
Mohamed is particularly proud of the renewal and rehabilitation of historic town centres of shrine cities in Iraq.
He has been named by Middle East Architect magazine as one of the most influential architects in the Middle East on several occasions.
It is my great honour to receive this high recognition from such a distinguished university for my humble achievements in practicing architecture and supporting young architects in Iraq and the Middle East region.

Achievements that could not have happened without the support of my family and colleagues and a lot of hard work and dedication.
Dr Salim Al Malik is the Director General of the Islamic World Educational, Scientific and Cultural Organisation, which works to strengthen co-operation among member states in educational, scientific and cultural research, making Islamic culture the focal point of educational curricula at all levels.
He has held a number of senior Ministry posts at the Ministry of Education during his career, developing educational partnerships leading to initiatives such as the Custodian of the Two Holy Mosques' Overseas Scholarship Program.
An esteemed medical scholar, Dr Malik has negotiated a significant number of scientific and educational agreements between the Saudi Ministry of Education and its counterparts across the world.
The Coventry Honorary Degree galvanises the ideals that define my career and life's advocacy to continue promoting the internationalisation of education to help bridge the literacy gap in many less fortunate countries, with my ardent desire that one day, through the power of education, poverty and violent extremism can be lessened and eliminated.
Coventry University has strong links to the Middle East through its regional hub in Dubai and academic links with the Middle East College in Oman and the Emirates Aviation University in the United Arab Emirates.
I would like to congratulate all those receiving honorary doctorates from Coventry University, their outstanding achievements in fields from science, IT and finance to music, sport and law, are an inspiration to today's students.

Coventry University is proud to maintain strong academic collaborations across the world and we are a national leader in offering fantastic experiences to international students, with more than 13,000 students from overseas choosing to study with us last year.
This year's honorary doctorate recipients are receiving their degrees during a series of ceremonies between 15-24 November.