Coventry Law School partners with GROW mentoring programme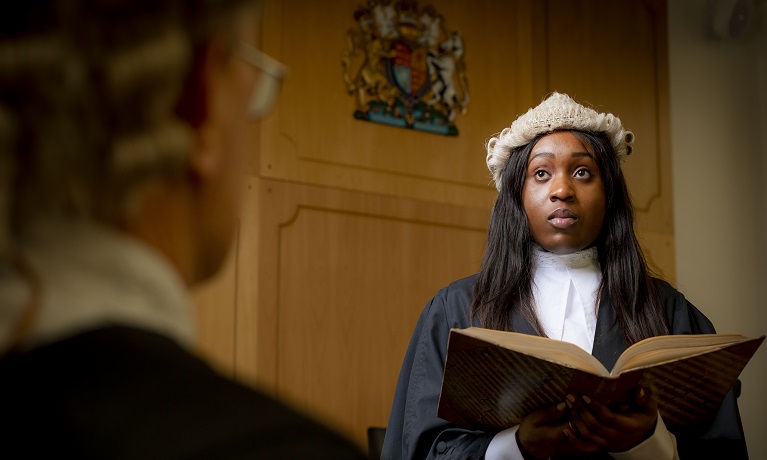 ---
Wednesday 24 February 2021
Press contact
---
Students at Coventry University's Law School will become the first university students to benefit from a mentoring programme designed to widen access to the legal profession.
GROW mentoring matches law students and early career professionals with experienced mentors from the legal profession who share similar backgrounds and experiences.
The legal mentoring initiative was founded in March 2020 by Justin Farrance, a trainee solicitor with the international law firm Allen & Overy LLP, and Coventry University is the first university to join the scheme.
GROW supports students from the UK and the US by breaking down barriers when entering the legal profession. Students are assigned a mentor who is able to offer them tailored advice based on having something in common with them, such as the law firm they aspire to join, degree background, having the same alma mater, or membership of the same underrepresented community.
Coventry University students will be able to benefit from tailored advice, career insights from someone already within the industry, and general hints and tips with applications or interviews. Pairing people from similar backgrounds provides students with a relatable contact and helps reassure and boost their confidence.
GROW's mentors come from more than 50 law firms, tech giants, large in-house legal teams and chambers, all varying in size, specialism and location. Since March 2020, GROW has successfully matched 1,000 people starting out in their careers.
This initiative is a means to connect aspiring lawyers with legal professionals. It allows students to gain an insight into what working life is truly like and provides them with a direct line with people who have taken a similar path. The driving force behind this programme is to enhance social mobility, diversity and inclusivity in the legal industry. The legal profession can seem somewhat daunting, however Grow helps to minimise that by connecting the two worlds.
I am delighted to launch our first ever partnership with a university. Having virtually spoken to members of Coventry Law School, I was inspired by their efforts to support their law students and was very happy to launch GROW Coventry University. Mentorship is more important than ever in supporting diverse talent and I can't wait to hear the progress students make with their career journey.
Coventry Law School has been teaching law for more than 50 years and helps to develop the employability of its graduates by providing career advice and guidance, something the GROW mentoring partnership will further support.
Find out more about studying law on our flagship Law LLB course, which offers bespoke pathways to allow specialisation in a variety of legal area.