Coventry University staff given inspirational talk from UK's Invictus Games captain Rachel Williamson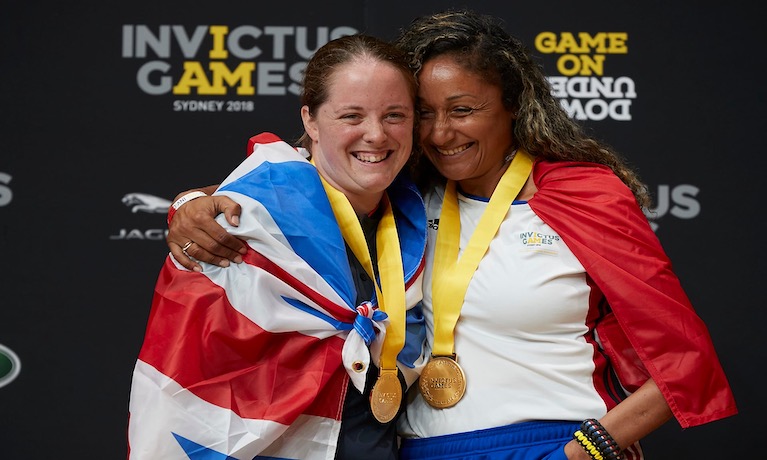 ---
Thursday 18 November 2021
Press contact
---
The inspirational captain of Team UK's Invictus Games squad Rachel Williamson returned to the city where her sporting journey began to share her story with Coventry University staff.
While serving in the Royal Air Force (RAF) as a senior aircraftman (SAC) and medic, Rachel picked up an injury, which led to her losing use of one of her arms. She had to step down from her role with the RAF but has gone on to win a swathe of medals for Team UK in both rowing and swimming. Rachel put in an eye-catching performance in Sydney in 2018, bringing home two gold medals, three silvers and a bronze.
The Invictus Games is a sporting competition for wounded, injured and sick serving and veteran military personnel, and gives them the opportunity for rehabilitation as well as competing on an international sporting stage. The idea came about when Prince Harry watched a similar competition - The Warrior Games - in the USA back in 2013.
After igniting her passion for swimming at a local pool in Coventry, Rachel returned to the city to share her stories and experiences of setbacks and sport to help people understand the importance of resilience and positivity.
It's not easy when you get injured and you automatically just shut down, you can end up in a bit of a depressive state, but injury doesn't define who you are and there is always light at the end of the tunnel, you just have to be brave and keep moving forward.

I love sharing my story and if my experiences and advice can help even one person then it's well worth it.

Rachel Williamson, Invictus Games Team UK captain
Coventry University staff listened with intent as Rachel gave them the lowdown on her injury, rehabilitation and remarkable sporting triumphs. She answered a range of questions before one member of staff thanked her for her time and honesty, explaining how powerfully her story had resonated.
I haven't been here [to Coventry] for a long time. I used to swim at a local pool here when I was younger, so this is where it all started for me. I wanted to come back and share my story with Coventry University and I hope everyone who came along took away the message that you should always look to find the positive in any negative situation and you should never give up.
Team UK is delivered by Invictus UK; a collaboration which comprises Help for Heroes, the Royal British Legion and the MOD.